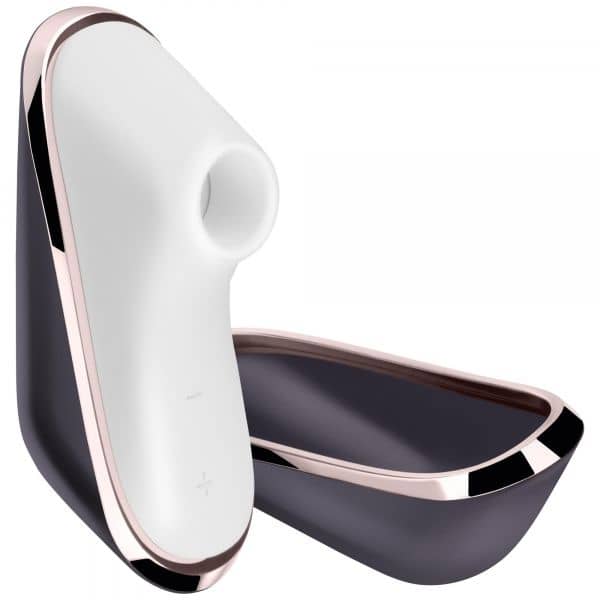 Satisfyer Pro Traveler
Pulsating pressure - 99% reach orgasm. 11 intensity levels of air pressure stimulation in a small travel friendly size.
In stock, offer ends tomorrow
Details
The renowned Satisfyer in smooth travel edition
Contactless clitoris stimulator
Stimulates the pulsating pressure waves
magnetic cover
Best in Test in Express 2018
Body safe silicone
Rechargeable
What makes it special? H3>
Take the famous and beloved Satisfyer experience with you on the go with Satisfyer Pro Traveler - 99% get orgasms with Satisfyer! P>
Like all Satisfyer clitoral stimulators excite and satisfy the you using pulsating pressure waves, which leads to extra deep orgasms without direct contact. Particularly effective also for those who have difficulty in achieving orgasm. P>
Select one from 11 different pulsation levels at +/- button and enjoy the vibrator on your own or with a partner. Elegant and discreet - perfect for the handbag or holiday suitcase. P>
Magnetic lid with gold detail ensures good hygiene and a stylish finish that no one could guess saved on a sex toy with impressive intensity. Span> p>
How do I use it? H3>
Just place the mouthpiece against the clitoris and let the pressure waves do the rest! More simply, it becomes unlikely. +/- buttons intensity level is well located on the front of the vibrator and can be easily adjusted while it is in use. P>
h3> Which lubricant should I use? H3>
Use water-based lubricant with this product - we recommend Mshop Care Lube it water-based lubricant for even greater enjoyment. P>
Power Supply
Powered by
USB Re-chargeable
Dimensions
Weight
0,15 kg
General
Brand
Satisfyer
Product Type
Airpressure vibrator
SKU
571091
Order now and get it by:
Wednesday, 21/04 - Friday, 23/04
Free shipping
Free shipping on orders over 99 €
100% discreet packaging
SMS & e-mail package tracking
Love their stuff and airvibs BUT!
Its too hard around the clit; the edges vs the bigger version where u can remove tip and thicker.
I think its something all airvibs needs to think about
Its gonna sit over clit and face it, not like u can be still with that pleasure so u might grind etc and those hard edges actually cause bleeding skavsår:/ at times depending on how wild it makes u..
I think some might want a bigger? To cover more than clit or simply got bigger clit?
In this case u can't even remove it like on penguin (who's also really hard & same problem)
Basically the big with removable softer bigger plastic is best so far but I'm hoping they think more of the sensitive skin that will take the impact of it. For it to be completely hands free or work during sex it has to be softer where it sits around clit & ofc its best to have so u can remove em for easy cleaning.
I liked the hygienic magnetic lid but id use the bigger on a travel due to comfort.
The should add some attachment u can put on the clit part to make it softer around it. That would fix it.
As for airvibs, if u never tried, u missed out, just buy the cheapest long one for better comfort, I've tried several from this brand as well as womanizer and this brand is way better than the expensive original, go figure!