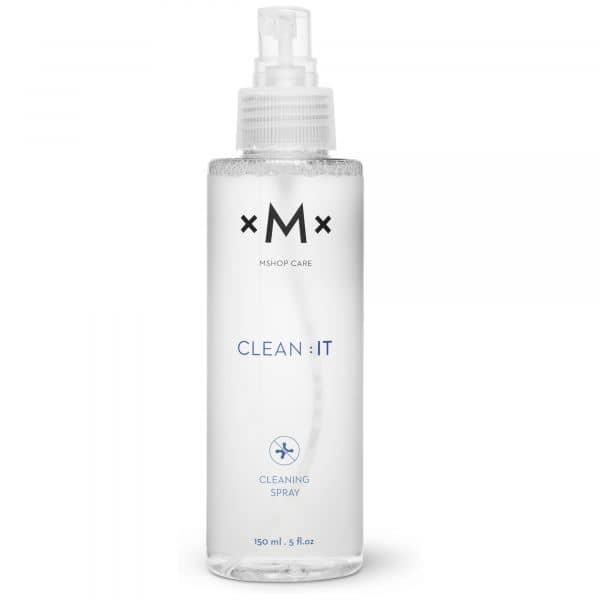 Clean:IT
150 Ml. Disinfectant cleaning spray for sex toys that are easy to use and 100% vegan.
In stock
Details
Easy-to-use sex toy cleaner
Carefully designed
Vegan ingredients
Disinfectant and gentle on you and the sex toys
What makes Clean: IT from Mshop Care special?
With over 30 years of experience behind us, we have designed the Mshop Care collection - developed to provide the perfect combination between high quality and accurate design.
This cleaning for sex toys has carefully selected ingredients to be as gentle as possible, while it cleans your sex toys in the very best way. Clean: IT is odorless and tasteless and is gentle on sensitive materials such as latex, rubber and silicone.
Why should I use cleaning for sex toys?
When you clean your sex toys properly, they last longer. If you wash them with soap, detergent, alcohol or other cleaning, you risk them drying out.
When they dry out, small cracks form in the material of the sex toy, in these small cracks bacteria accumulate, as well as remnants of used cleaning, which you then get into the body when you use the toy. In addition to the health risk, the small cracks also contribute to larger cracks in your toy.
Therefore, use a correct cleaning for your sex toys - both for yours and for the sake of the sex toy!
How do I use Clean: IT?
Rinse the toy you want to clean in lukewarm water and then shake off excess water. Apply the spray and let it work for about 30 seconds. Then rinse the toy again and let it either air dry or wipe it with a clean towel. Clear! It will not be easier than that.
General
Effect
Cleaning
Mshop Type
Cleaning
Brand
Mshop Care
EAN
8718546548437
SKU
580306
Material
Ingredients
Mixture of 2-methylisothiazolin-3-one and 5-chloro-2-methylisothiazolin-3-one. Non-ionic surfactants, Anionic surfactants; Methylchloroisothiazolinone, Methylisothiazolinone
Dimensions (Package)
Length
4,50 cm
Width
4,50 cm
Height
16,50 cm
Weight
0,20 kg
Order now and get it by:
Wednesday 29/3 - Thursday 30/3
Free shipping
Free shipping on orders over 99 €
100% discreet packaging
SMS & e-mail package tracking
Really easy to use and works great for all toys
Quick and easy cleaning from a bottle with a pump spout. It does not take many seconds to prepare my toy or to clean it after bug. Highly recommend!
Super flexible and the toys feel like new late! Lasts a long time. Definitely worth every penny!
Feels more gentle than others
Have used other cleaning sprays before and think they smell fake in some way. This feels more natural and gentle while really cleansing. Will buy this again!
works really well .. absolutely great!
Very good cleaning! Large bottle, holds a pretty good hold for me. Will definitely buy again!
Really good and affordable.
Worth every penny! Mshop is really good and buys on lightning fast delivery - the best in this area.
You have viewed 8 out of 515 reviews