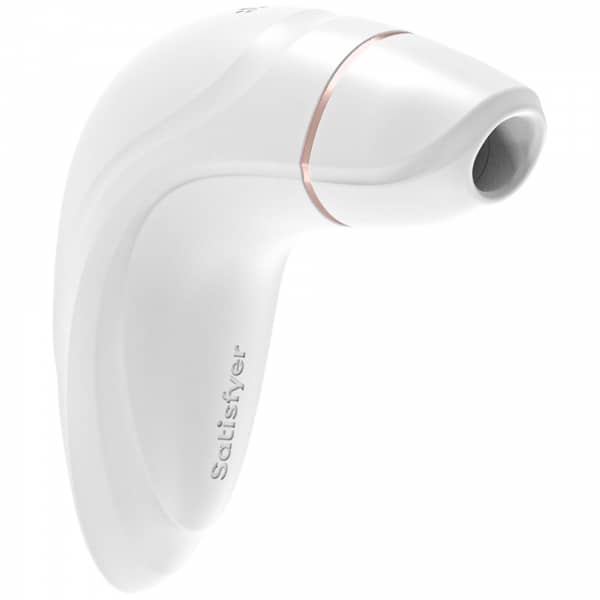 Satisfyer Pro Plus Vibration
Pulsating stimulation
In stock
Details
Non-contact stimulus
10 vibration levels
11 pressure wave patterns
Whispering quietly
100% waterproof
USB charger
What makes it special?
Satisfyer Pro Plus Vibration combines stimulating pressure waves with sensual vibrations, which has proven to be the most orgasm-safe technology for most women worldwide!
With its special technology, it stimulates you with the help of pressure waves and provides a non-contact massage. You do not need to touch, push or move the product - the innovative vacuum technology gives you a wonderfully tickling pulsation. Pulsation stimulation has proven to be extra effective for those who find it difficult to achieve orgasm.
Pro Plus Vibration offers a grip-friendly design so you can easily place it where you want. Stylish design and easy navigation make this Satisfyer one of the hottest on the market!
Like all products in the Satisfyer family, Pro Plus Vibration offers: 11 pressure wave patterns, 10 vibration levels and a quiet and powerful motor. Pro Plus Vibration is 100% waterproof - use in the shower or bath for more intense orgasms.
How do I use it?
With Satisfyer Pro Plus Vibration you can relax, have your hands completely free and let the clitoral vibrator do the work. Just place the mouthpiece against your clitoris and feel how the pressure waves tickle you until you are surprised by a strong orgasm - or maybe several pieces?
How do I control it?
The buttons are conveniently placed so that you can jump between the intensity levels without having to pause and search! Just adjust the intensity as you approach the climax. Use the "on" button to turn it on and off, and the + and - buttons to increase / decrease the intensity. You can control the vibrations easily with the wave button.
Which lubricant should I use?
Use Satisfyer Pro Plus Vibration together with a water-based lubricant for an even more comfortable experience.
How do I charge it?
Satisfyer Pro Plus Vibration is rechargeable via the included magnetic charger, which means that the product is 100% waterproof so it can accompany you both in the shower and in the bathtub.
How do I clean it?
You can easily clean your toy with a cleaning product specially developed for sex toys. The silicone head can be easily removed from the product to facilitate cleaning. We recommend using Pjur Med Clean Spray which is easy and quick to use! Rinse the toy you want to clean in lukewarm water and then shake off excess water. Apply the spray and allow the toy to air dry. Clear! It will not be easier than that.
How do I store it?
If you protect your sex toys, they will last longer. Avoid storing your sex toys so that they touch each other, and do not use plastic bags as storage as this can damage the silicone. Store your toy in a dust-free, dry and cool place.
General
Vibrator Shape
Special Vibrators
Body Zone
Clitoris
Stimulation Type
Air Pressure, Vibration
Features
Water-Proof
Product Type
Air Pressure Vibrators
Brand
Satisfyer
EAN
4049369015511
SKU
570366
Material
Waterproof
Splash proof
Power
Powered by
USB Re-chargeable
Dimensions (Package)
Length
14,00 cm
Width
14,00 cm
Height
5,00 cm
Weight
0,27 kg
Order now and get it by:
Saturday 10/12 - Monday 12/12
Free shipping
Free shipping on orders over 99 €
100% discreet packaging
SMS & e-mail package tracking
The air pressure vibrator is so "high up / far in" so I did not experience the intense vibration that I had hoped for unfortunately! :(
For me personally, this is great, I have a hard time coming and this little device works great. Can't wait to try it with my partner;)
+ orgasms become stronger / more intense once you find the speed and place that suits you.
- The machine sounds a lot
- it lights up when you use it
It does its job, is happy with the result despite the minus
Can really be recommended! Easy to use and quiet.
A whole new level of orgasm
Had one before, but can not buy the nozzle separately. They last for about a year. Then it sounds awful, lol! But this one is a big favorite.
Absolutely amazing - never experienced anything like it! Top rating!
Haven't used it for so long yet but she gets an orgasm right away.
You have viewed 8 out of 70 reviews