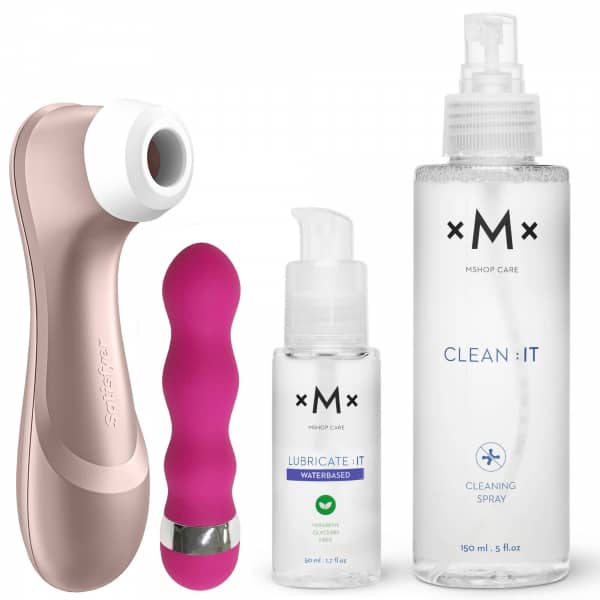 Satisfyer Kit - The next sexual revolution
Favorite Satisfyer Pro 2 Next Generation, clitoral vibrator, lubricant and cleaning in one kit.
In stock
Details
Non-contact clitoral stimulator
Stimulates with pulsating pressure waves
Body-safe silicone
Rechargeable
Vegan lubricant and cleaning
Including: Satisfyer pro 2 + Lubricant + Cleaning + extra vibrator
What makes Satisfyer Pro 2 special?
Satisfyer Pro 2 Next Generation is the latest update on the pulsating clitoral stimulator, 99% get orgasms!
With its special technology, it stimulates you with the help of pressure waves and provides a non-contact massage. You do not need to touch, push or move the product - the innovative vacuum technology gives you a wonderfully tickling pulsation. Pulsation stimulation has proven to be extra effective for those who find it difficult to achieve orgasm.
In the updated version of Satisfyer you will find a plus and minus button for you to easily navigate between the 11 different pulsation modes. This version is also a bit quieter than before - something that is appreciated by many users!
How do I use it?
With the new Satisfyer Pro 2 Next Generation, you can relax, have your hands completely free and let the clitoral vibrator do the work. Just place the mouthpiece against your clitoris and feel how the pressure waves tickle you until you are surprised by a strong orgasm - or maybe several pieces?
How do I control it?
The buttons are conveniently placed so that you can jump between the intensity levels without having to pause and search! Just adjust the intensity as you approach the climax. In addition, the nozzle is larger than the previous version; to be able to stimulate a larger area no matter what your clitoris looks like!
Extra Vibrator - Pink Vibrator
Flexible clitoral vibrator that is easy to carry and easy to use. It has adjustable vibrations so you can slowly build up the voltage
It is perfect to use both yourself and with a partner. Use it to stimulate the clitoris, nipples or other erogenous zones.
It is very quiet and 100% waterproof so you can also use it in the shower or bath. It is powered by a standard AA battery so you do not have to look for complicated batteries when it is time to replace.
What lubricant and cleaning is included?
Mshop Care Lube It Water-based Lubricant
With over 30 years of experience behind it, Mshop has developed the Lube It - the lubricant that is completely free of unnecessary additives such as parabens and glycerin.
Where other water-based lubricants can leave a sticky film behind, Lube It does the exact opposite, it dries silky smoothly into the skin and leaves the skin soft and smooth. This lubricant is condom-proof, latex-safe, caring, moisturizing and protective.
Lube It is taste and fragrance-free and fits just as well with all our toys as with a partner or on your own.
Mshop Care Clean It
This cleaning for sex toys has carefully selected ingredients to be as gentle as possible, while it cleans your sex toys in the very best way. Clean It is odorless and tasteless and is gentle on sensitive materials such as latex, rubber and silicone.
How do I clean it?
You can easily clean your toy with a cleaning product specially developed for sex toys. This kit comes with Mshop Care Clean It which is easy and fast to use! Rinse the toy you want to clean in lukewarm water and then shake off excess water. Apply the spray and allow the toy to air dry. Clear! It will not be easier than that.
How do I store it?
If you protect your sex toys, they will last longer. Avoid storing your sex toys so that they touch each other, and do not use plastic bags as storage as this can damage the silicone. Store your toy in a dust-free, dry and cool place.
General
Vibrator Shape
Special Vibrators
Body Zone
Clitoris
Stimulation Type
Air Pressure, Vibration
Product Type
Air Pressure Vibrators
Brand
Satisfyer
SKU
BOM-SATISFYER2
Power
Powered by
USB Re-chargeable
Dimensions (Package)
Length
16,00 cm
Width
20,00 cm
Height
8,50 cm
Weight
0,58 kg
Order now and get it by:
Saturday 10/12 - Monday 12/12
Free shipping
Free shipping on orders over 99 €
100% discreet packaging
SMS & e-mail package tracking
Why have I waited so long to get this? Incredibly effective when it comes to eliciting orgasms. And the boyfriend loves it too! Recommend :)
The satisfaction is wonderful, however, the vibrator was not for me. The lubricant and cleaning are also good :-)
Good, but a little tiring that the satisfier jumps off when you move, otherwise a good package deal and good orgasms
Absolutely unbelievably beautiful
My absolute favorite. Its awsome
bought this for my girl and she uses it while we have sex. nice for me as I do not have to rub :)
I think it's ok, but I also have a womanizer, and I think it's better
You have viewed 8 out of 228 reviews