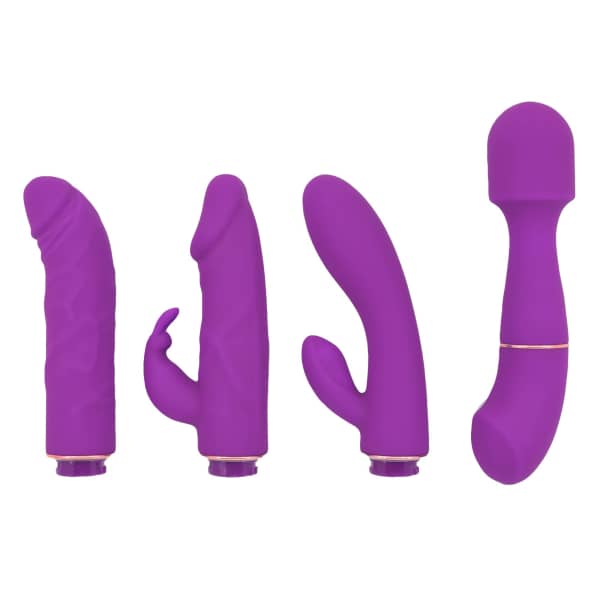 Ultimate Vibrator Kit
4 best-selling favorites in one kit! 1 bodywand, 2 rabbits and 1 dildo. All 4 have 10 different vibration modes.
In stock
Details
Most affordable product in its category
4 different vibrators in one kit!
Bodywand
2 rabbits
Dildo
Body-friendly silicone
10 different vibration & rotation modes
What makes this kit special?
Are you looking for a sex toy but are a little unsure which one to choose? Then this kit is for you!
Ultimate Vibrator Kit is the perfect kit for you who want a set with everything you need. This is an incredibly beginner-friendly kit where you get four different vibrators to choose from, all in a flexible package. The silky smooth material is made of body-safe silicone, which gives a wonderful feeling to the body. The vibrator with the motor is 20.4 cm long, as each penetrating part between 12 - 14.3 cm - perfect for varying your sexual games!
Perfect both for you who want for couples who want to build their sex toy collection, or for the couple who want to experience new sensations together.
The kit contains:
Wall
Of course, the classic is included in this complete set! This can be used all over the body, and stimulates you through its deep vibrations. The flexible top offers perfect fit and ergonomic use, so you have full access to your erogenous zones.
True to nature Rabbit
The rabbit vibrator comes in two different versions in this kit, both with a lifelike design and a smoother model. With wonderful vibrations, it vibrates internally, while the soft, flexible ears stimulate the clitoris and follow your movements.
Smooth Rabbit
Designed to give you everything you need to reach climax - in a sleek, stylish design. The slight bend settles against your G-spot, while the other part stimulates the clitoris.
Dildo
A classically designed vibrating dildo in the shape of a realistic penis. Works just as well to use for clitoral stimulation or massage of other hotspots as for penetrating sex.
How do I use it?
You simply screw the motor on the vibrator you want to use, and then press the button on the motor to start the vibrator. You then switch between the different programs by pressing the same button again.
Which lubricant should I use?
Use these vibrators together with a water-based lubricant for an even more comfortable experience.
How do I charge it?
The motor is rechargeable via the included USB charger.
How do I clean it?
You can easily clean your toy with a cleaning product specially developed for sex toys. We recommend using Pjur Med Clean Spray which is easy and quick to use! Rinse the toy you want to clean in lukewarm water and then shake off excess water. Apply the spray and allow the toy to air dry. Clear! It will not be easier than that.
How do I store it?
If you protect your sex toys, they will last longer. Avoid storing your sex toys so that they touch each other, and do not use plastic bags as storage as this can damage the silicone. Store your toy in a dust-free, dry and cool place.
General
Vibrator Shape
G-Spot Vibrators, Rabbit Vibrators, Rod Vibrators, Magic Wand Massager
Body Zone
Clitoris, G-Spot, Vagina
Stimulation Type
Vibration, Rotation
Mshop Type
Vibrators
Brand
Ladylove
EAN
7350102750284
SKU
571497
Material
Material
Silicone
Waterproof
Splash proof
Power
Powered by
USB Re-chargeable
Dimensions (Vibrator)
Length
20,40 cm
Dimensions (Package)
Length
26,00 cm
Width
22,00 cm
Height
5,00 cm
Weight
0,95 kg
Order now and get it by:
Tuesday 26/9 - Wednesday 27/9
Free shipping
Free shipping on orders over 99 €
100% discreet packaging
SMS & e-mail package tracking
I've had it for quite a while now and I would say I like the power of the motor, I'm quite heavy so it's hard to find vibrators that work for me. but it really bothers me that it starts at the highest and gets weaker with each click, which results in me having to restart it every time I want to increase the strength. Is it supposed to be like that or is there something wrong with my engine?
The rotating dildo is a little too fast in the rotation, but still okay.
Good but the charger has broken :(
They are really nice but my charger for them has broken so I can not charge them :(
For me, this was very good.
You can choose what you feel for the moment, on the outside, inside or both.
Perfect to get everything you want in 1
I had never had a sex toy before. Was tipped off about this kit in the store. Perfect to get everyone you wanted to try in 1 kit! The material was very soft and I love that you can vary which one you use ...
The material was much smoother than I expected and fit me perfectly. Really easy to get everything in 1 set so you do not have to buy several different ones. Really happy!
Take a step into paradise !!! The rabbit with a rotating head is a real winner, orgasm in no time! Throw away everything old that you had here, you have EVERYTHING you need! Incredibly practical with the same rechargeable battery for everyone.
THIS IS THE WINNER !!
Got an orgasm already after just under 4min with the rabbit !! Nice vibrations. Also uses the wand on my stiff neck after a day at work
You have viewed 8 out of 92 reviews