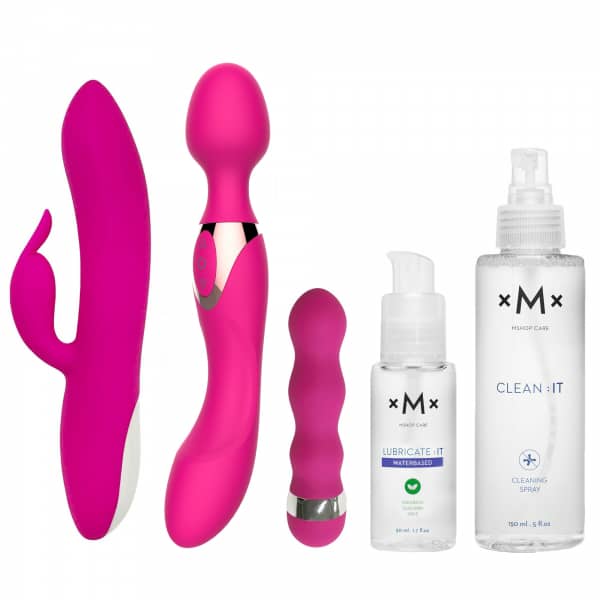 Vibrator kitet med Eclipse Rabbit
3 sex toys Rabbit vibrator Clitoral vibrator Bodywand Vegan lubricant and cleaning
In stock
Details
3 sex toys + lubricant & cleaning
Rabbit vibrator
Clitoral vibrator
Bodywand
Vegan lubricant and cleaning
Superdeal!
3 different sex toys with lubricant & cleaning:
Rabbit vibrator
Clitoral vibrator
Bodywand
Mshop Care Lube The vegan lubricant
Mshop Care Clean It vegan cleaning for sex toys
ECLIPSE RECHARGEABLE RABBIT
The pink rabbit vibrator is designed to give you everything you need to reach climax - in a smooth, stylish design. The slight bend bends towards your G-spot, while the soft, flexible ears follow your movements. The slightly pointed top makes it easy to insert.
Ecplise has two extra strong engines, placed so that you get the most out of it. The deep, heavy vibrations inside, combined with the slightly more superficial and fast vibrations outside, are guaranteed to take you where you want to go.
Choose from 10 vibration patterns and speeds - or turn on the turbo mode with a simple push of a button for a whole new sensation.
Made of body-safe silicone, 100% waterproof and rechargeable via the included USB charger.
VIBRATOR PINK
Flexible clitoral vibrator that is easy to carry and easy to use. It has adjustable vibrations so you can slowly build up the voltage
It is perfect to use both yourself and with a partner. Use it to stimulate the clitoris, nipples or other erogenous zones.
It is very quiet and 100% waterproof so you can also use it in the shower or bath.
BODYWAND
This rechargeable wand is perfect for you who want a versatile sex toy! With a motor at each end, it can be used both as a dildo or as a clitoral vibrator.
The wall has as many as 12 different vibration modes so you can find exactly what is perfect for you. It is rechargeable and 100% waterproof so you can also use it in the shower and bath.
Thanks to its flexible size, it is very easy to use both by yourself or with a partner.
MSHOP CARE LUBE IT
With over 30 years of experience behind it, Mshop has developed the Lube It - the lubricant that is completely free of unnecessary additives such as parabens and glycerin.
Where other water-based lubricants can leave a sticky film behind, Lube It does the exact opposite, it dries silky smoothly into the skin and leaves the skin soft and smooth. This lubricant is condom-proof, latex-safe, caring, moisturizing and protective.
Lube It is taste and fragrance-free and fits just as well with all our toys as with a partner or on your own.
MSHOP CARE CLEAN IT
This cleaning for sex toys has carefully selected ingredients to be as gentle as possible, while it cleans your sex toys in the very best way. Clean It is odorless and tasteless and is gentle on sensitive materials such as latex, rubber and silicone.
How do I load the sex toys?
The vibrators are rechargeable via the included USB chargers.
How do I clean it?
You can easily clean your toy with a cleaning product specially developed for sex toys. This kit comes with Mshop Care Clean It which is easy and fast to use! Rinse the toy you want to clean in lukewarm water and then shake off excess water. Apply the spray and allow the toy to air dry. Clear! It will not be easier than that.
How do I store it?
If you protect your sex toys, they will last longer. Avoid storing your sex toys so that they touch each other, and do not use plastic bags as storage as this can damage the silicone. Store your toy in a dust-free, dry and cool place.
Order now and get it by:
Saturday 10/12 - Monday 12/12
Free shipping
Free shipping on orders over 99 €
100% discreet packaging
SMS & e-mail package tracking
Good price for a "beginner kit" and this was my first rabbit, wand and vibrator
Gave this to my wife as a gift, the best gift I have given in a long time. Was very appreciated if you say so;) affordable to get everything at a better price
Have never come in my life, the first time with these, worth every penny
You have viewed 8 out of 15 reviews