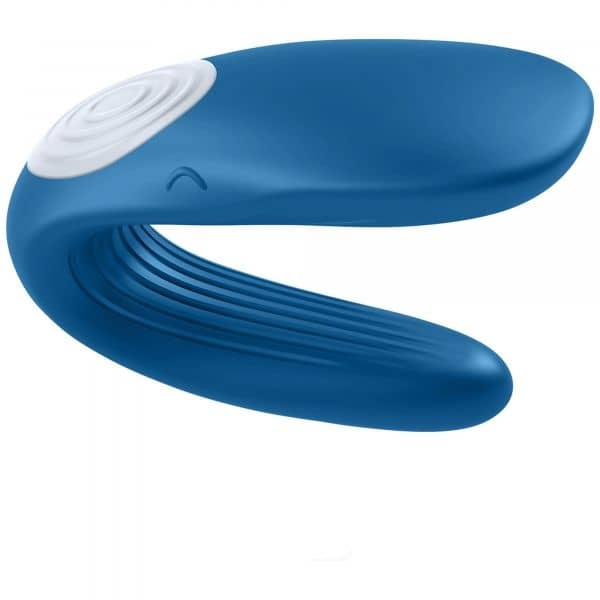 Double Whale
For clitoris, g-spot and penis100% waterproofRechargeable10 vibration modesBody-friendly silicone
In stock
Details
For clitoris, g-spot and penis
100% waterproof
Rechargeable
10 vibration modes
Body-friendly silicone
What makes it special?
Enhance the enjoyment for both with the sweet partner vibrator Partner Whale worn by the woman during intercourse.
With Partner Whale you can look forward to tickling vibrations on both G-spot, clitoris and penis at the same time.
The wide end stimulates the clitoris while the narrow one takes care of the G-spot and spreads side vibrations through the penis as he moves in and out during the act. It is therefore ideal for an explosive climax for both when you experiment through the 10 vibration programs and enjoy the uniquely tight feeling that occurs when the penis travels along the side of the vibrator. Made of soft, comfortable silicone.
Perfect for her who has difficulty coming with only vaginal stimulation, or for you who want extra strong orgasms.
How do I control it?
You control it easily using the button on the top.
Which lubricant should I use?
Use Partner Whale together with a water-based lubricant for an even more comfortable experience.
How do I charge it?
Partner Whale can be recharged via the included charger.
How do I clean it?
You can easily clean your toy with a cleaning product specially developed for sex toys. We recommend using Pjur Med Clean Spray which is easy and quick to use! Rinse the toy you want to clean in lukewarm water and then shake off excess water. Apply the spray and allow the toy to air dry. Clear! It will not be easier than that.
How do I store it?
If you protect your sex toys, they will last longer. Avoid storing your sex toys so that they touch each other, and do not use plastic bags as storage as this can damage the silicone. Store your toy in a dust-free, dry and cool place.
General
Vibrator Shape
C-Shape Vibrators
Body Zone
Clitoris, Vagina, Penis
Stimulation Type
Vibration
Features
Water-Proof
Product Type
Couples Vibrators
Brand
Satisfyer
EAN
4049369014095
SKU
570341
Dimensions (Package)
Length
11,00 cm
Width
11,00 cm
Height
5,00 cm
Weight
0,13 kg
Order now and get it by:
Saturday 10/12 - Monday 12/12
Free shipping
Free shipping on orders over 99 €
100% discreet packaging
SMS & e-mail package tracking
The vibrations are nice, both me and my partner can enjoy it. The different vibration choices are also good in our opinion.
What would be improved is the sound and how to switch between the Vibrations. It is very loud and to get to the last vibration setting you have to "channel flush" through nine others.
Hard to hold when you have intercourse
Made the sex worse rather than better, you had to keep it in place which I was ready for, but still hurt a little for my partner and that the vibrations did not make any difference to either me or him, much nicer but this one unfortunately
Was a little skeptical at first, but this one worked just fine for both of us! Really nice vibrations
Most comfortable with lubricant!
This is the first time we have used something like this, in the beginning it felt unusual. But when we slipped on and came in at a nice pace, we both came to the conclusion that it is awesome !! Love how tight it gets and the vibrations. Great fall!
Unfortunately, this goes out immediately when the girl put it in place and let go of it.
It must be kept in place constantly with the hand, which destroys the experience for both of us.
We gave it a few tries but it gets the same every time. Will never use again. Not recommended.
Fun, satisfying for both.
Very much appreciated by my partner and I could control with my hand where it worked best for me. We both liked it and got to share it together.
Not in place. Must hold it all the time and sometimes it slipped out in the middle of the act.
You have viewed 8 out of 44 reviews