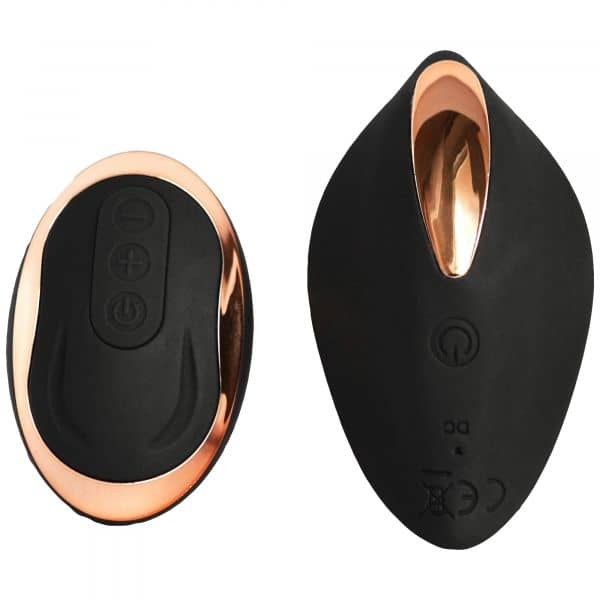 Our Secret Vibrating Panty Vibe
Faith vibrator with remote control. Put the vibrator in your panties, give control to your partner and prepare to hold the mask
In stock
Details
Strong panty vibrator with remote control
10 vibration modes
Very quiet & discreet
Comfortable to wear
Rechargeable
Body-safe silicone
Can also be used without remote control
What makes it special?
Our Secret Panty Vibe is a discreet panty vibrator that makes it possible for you to take the foreplay out on the town! Put the vibrator in your panties, give control to your partner and prepare to hold the mask.
The vibrator is designed to lie comfortably in place and give wonderfully intense vibrations to the clitoris. It has 10 different vibration modes to choose from and you can control the vibrations with the remote control or directly on the vibrator.
Our Secret Panty Vibe is rechargeable, which gives it a long battery life. Use it for an exciting foreplay in the city and then enjoy it as a classic clitoral vibrator to give the evening a wonderful end you will soon forget!
How do I control it?
Start Our Secret Panty Vibe by holding down the button on the vibrator for three seconds. Now it is ready to be controlled with the remote control!
Hold down the button on the remote control for three seconds to start the vibration. Keep pressing simple buttons to switch between the different modes. To turn off the vibration, hold down the button again for three seconds. Then the vibrator goes into stand-by mode for ten minutes when you can almost completely start the vibrator again. If you do not turn it on during the ten minutes, the vibrator will turn off completely.
You can also control the vibrations with the button on the vibrator instead of with the remote control. Hold down the button for three seconds to switch it on / off and press "+" or "-" simply to switch between the vibration modes.
How do I charge it?
Our Secret Panty vibe is easily charged with the included USB cable. The remote control is powered by an included 3V lithium battery.
How do I clean it?
Rinse the toy in lukewarm water and then use a cleaning toy designed for sex toys to disinfect it and protect the material. We recommend Mshop Care Clean IT which is easy to use! Spray on the rinsed toy and let the spray work for about 30 seconds. Then rinse it again and let it air dry or dry with a clean towel. Clear!
How do I store it?
Avoid storing your sex toys so that they touch each other. Make sure they are in a dust-free, dry and cool place so they last longer.
General
Vibrator Shape
Panty Vibrators
Body Zone
Vagina
Stimulation Type
Vibration, Penetration
Features
Remote Control
Product Type
Egg Vibrators
Brand
Ladylove
EAN
7350102750345
SKU
580910
Material
Material
ABS plast/Silicone
Waterproof
Splash proof
Power
Remote
Yes
Powered by
USB Re-chargeable
Batteries included
Yes
Dimensions (Vibrator)
Length
9,00 cm
Width
4,5
Dimensions (Package)
Length
12,00 cm
Width
10,00 cm
Height
9,00 cm
Weight
0,10 kg
Order before 10:30 and get it by:
Tomorrow 7/2 - Wednesday 8/2
Free shipping
Free shipping on orders over 99 €
100% discreet packaging
SMS & e-mail package tracking
Bought at Ullared and the first time it vibrated but the second time nothing happens. Must it be charged and how to do not find the charging input
The girl says that it vibrates well and is nice but I think it is a bit too loud and has quite a rattle range
What I liked most about it was that it was a nice design.
Have only tested it alone at home, but it was not a wow experience exactly. In addition, it sounds very much so I have a hard time seeing that it will be able to be used discreetly in other contexts. Unfortunately.
Not great vibration actually and sounds a little too loud to have out among people!
I liked: it has good, fairly strong vibrations and is relatively quiet (vibrators are never completely silent, but you could use this unnoticed in a reasonably busy restaurant).
Slightly worse: remember to be careful not to press too hard on the remote control, the button started to loosen after I tested it twice. Accidentally pressed too hard to hold it for a while to turn off the vibrator, and the button fell out of place a bit. However, it mostly works when I get the button in place, gently pressing it.
Would by and large say that it is a good budget option!
Very good, but sounds too much to be able to be among people.
Very good, but sounds too much to be among people.
Very good, but sounds too much to be among people.
You have viewed 8 out of 35 reviews