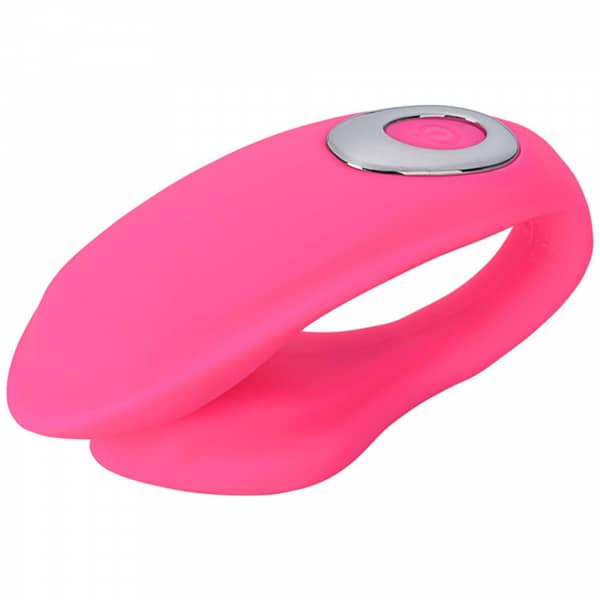 Nona Couples Vibrator
The very affordable pair vibrator - Stimulation of the clitoris, vagina and penis. Most affordable of all Couples vibrators
In stock
Details
Couple vibrator that stimulates you both
Stimulation of the clitoris, vagina and penis
Multiple speeds and pulsation modes
Made of body-friendly silicone
Most affordable product in the category
What makes it special?
Finally, the very affordable pair vibrator from Partner is here!
With Nona Couples Vibrator, you get even more out of your sex life, as it stimulates you both at the same time. You can have your hands completely free while the vibrator, which is intended for clitoral and vaginal use, does its job during intercourse. The side that has the control button stimulates the outside of the clitoris, while the other side of the curved vibrator sits in the vagina and massages the g-spot. This means that both woman's erogenous zones are stimulated at the same time and also the man's penis when you have penetrated intercourse - the ultimate sex toy for both of you!
How do I control it?
You control it easily using the button on the top.
Which lubricant should I use?
Use the Nona Couples Vibrator together with a water-based lubricant for an even more comfortable experience. We recommend using this toy with Pjur Woman Nude or System Jo H2O.
How do I charge it?
The Nona Couples Vibrator can be recharged via the included charger.
How do I clean it?
You can easily clean your toy with a cleaning product specially developed for sex toys. We recommend using Pjur Med Clean Spray which is easy and quick to use! Rinse the toy you want to clean in lukewarm water and then shake off excess water. Apply the spray and allow the toy to air dry. Clear! It will not be easier than that.
How do I store it?
If you protect your sex toys, they will last longer. Avoid storing your sex toys so that they touch each other, and do not use plastic bags as storage as this can damage the silicone. Store your toy in a dust-free, dry and cool place.
General
Vibrator Shape
C-Shape Vibrators
Body Zone
Clitoris, Vagina, Penis
Stimulation Type
Vibration
Product Type
Couples Vibrators
Brand
Ladylove
EAN
7350102751861
SKU
571265
Material
Material
Silicone
Waterproof
Splash proof
Power
Powered by
USB Re-chargeable
Dimensions (Package)
Length
10,40 cm
Width
10,00 cm
Height
4,30 cm
Weight
0,12 kg
Order now and get it by:
Saturday 10/12 - Monday 12/12
Free shipping
Free shipping on orders over 99 €
100% discreet packaging
SMS & e-mail package tracking
We wanted to try a pair vibrator. Was a little skeptical about whether it would really make any difference, but it did! It helped her to more orgasms and the vibrations I could feel too. Extremely naughty. Great recommendation from here.
Not strong enough vibration, difficult to use during intercourse
Used it with my girl and did not think it would feel for me. It surprised and was great for both of us!
it was the first time I used something like this hard, and it felt much more than I expected. easy to use
I have wanted to test a "couple vibrator" for a long time but did not want to spend 1000: - so I bought this. I am super happy and think it was worth the money.
The vibrator does not really reach the clitoris if you do not actively hold it, so it is not directly "hands-free", thought it would fit better.
I think it's a little too big and away on the inside but the guy does not think it does anything.
Would probably have liked one with a smaller inside and which fits better on the outside.
Like that it is a little bigger part that should be in, feels better. Nice with the variety. Good for both girl and boy. Can easily give several orgasms in a row!
Works great on one woman less well on another!
You have viewed 8 out of 153 reviews