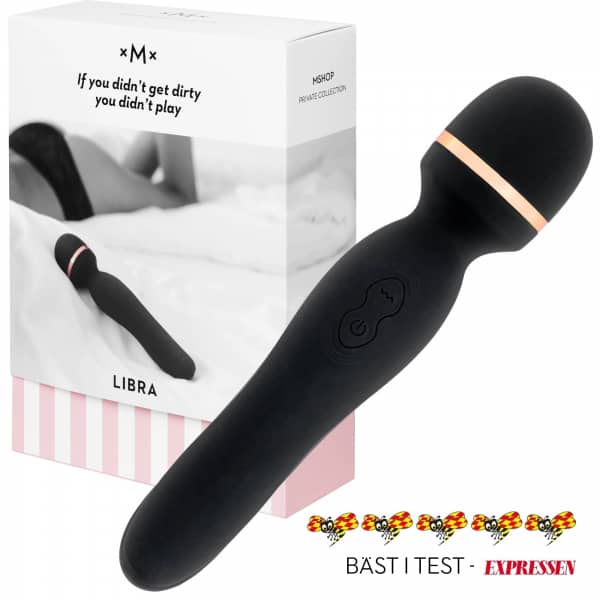 Libra
Get everything you need in 1 sex toy. Most affordable product in its category. Clitoral vibrator, wall and g-spot vibrator -
In stock
Details
Get everything you need in 1 sex toy
Most affordable product in its category
Clitoral vibrator, wall and g-spot vibrator - all in one
Expressen's Test Winner 2019!
Quiet and powerful
Velvet silicone
What makes Libra special?
Are you looking for a sex toy but are unsure which one to choose?
With Libra, only the imagination sets the limits - get everything you need in 1 sex toy!
With two vibrating ends, this vibrator can be used as a strong clitoral vibrator, wand or g-spot vibrator - all in a stylish Scandinavian design. The two ends each have a motor, which makes Libra one of the most versatile sex toys on the market.
Libra is rechargeable and is perfect to use both on your own or for even more comfortable sex with a partner.
How do I control it?
Both motors have 10 vibration modes that are controlled by two separate buttons, the first three vibration modes are ascending, then 7 different vibration patterns are followed that make it easy for you to find your favorite!
On the top Wanden there are two buttons that control each engine. You vary the strength and vibration patterns by clicking the buttons once. Both motors can be used simultaneously.
Which lubricant should I use?
We recommend using the water-based lubricant Mshop Care Lube It together with this Libra for an even more comfortable experience.
What makes Private Collection special?
With over 30 years of experience behind us, we have designed the Mshop Private Collection - developed to provide the perfect combination between high quality and ergonomic design. All sex toys in the collection have a silicone cover of the highest quality, and are designed to maximize your sexual pleasure.
How do I charge it?
This vibrator can be recharged via the included USB charger, on the back of the Wanden there is an input for chargers marked with DC.
How do I clean it?
You can easily clean your sex toy with a cleaning product specially developed for sex toys. We recommend using Mshop Care Clean It which is easy and fast to use! Rinse the toy you want to clean in lukewarm water and then shake off excess water. Apply the spray and allow the toy to air dry. Clear! It will not be easier than that.
How do I store it?
If you protect your sex toys, they will last longer. Avoid storing your sex toys so that they touch each other. Store your sex toy in the associated storage bag in a dust-free, dry and cool place.

Low (Single)

Medium (Single)

High (Single)

Pulse (Single)

Peak (Single)

Echo (Dual)

Tease (Single)

Massage (Single)

Heartbeat (Single)

Ramp (Single)
General
Vibrator Shape
Magic Wand Massager
Body Zone
Clitoris, G-Spot, Vagina, Body
Stimulation Type
Vibration
Product Type
Magic Wands
Brand
Mshop Private Collection
EAN
7350102750055
SKU
571422
Material
Material
Silicone
Waterproof
Splash proof
Power
Powered by
USB Re-chargeable
Dimensions (Vibrator)
Length
19,5
Dimensions (Package)
Length
23,50 cm
Width
17,80 cm
Height
6,80 cm
Weight
0,55 kg
Order now and get it by:
Saturday 10/12 - Monday 12/12
Free shipping
Free shipping on orders over 99 €
100% discreet packaging
SMS & e-mail package tracking
Great toy despite some mess!!
Really love this wand, flexible size & good vibrations! However, the battery in it broke after about a year, but I immediately got a new one, really great customer service!
Of all the wands I've had, this one is the best. I get an orgasm within 30 seconds every time - perfect when I just want to get fast to get rid of tension.
Great! Of course not as good as the satisfier, but to be a vibrator it is a strong and good vibration pattern. However, the G-spot does not even come close, and the buttons are a bit difficult to handle. It's the best vibrator I've tested, but I did not really like it. After 5 months, it is sometimes difficult to charge, even though I only charged it 2-3 times during that time.
Never had a better sex toy! So damn nice and come every time! Buy buy buy! Will not regret you!
significantly worse than the original, this one gets 0/5 stars but since it is not possible to choose, it gets 1 star.
My partner and I are extremely disappointed and if we did, we would return the product as it has been used on 3 occasions and it was just as bad every time.
The engine is far too small, nothing feels, the original Magic wand against it works every time. As I said, I regret this purchase thrown SEK 700 in the lake, do not buy it !!
Yes it is extremely nice but it does not work as I said.
avoid buying this do not understand how it can get good reviews from others it must be fake reviews because ours is then completely useless ....
Good vibrations, but could be clearer buttons.
Magic is easy to discuss. Yes thought the buttons were hopeless to handle and thought it was not as quiet as others thought. The wife thought it was too slight vibration but this is of course a matter of taste. We got one with a cord instead which also had a larger head and replaceable accessories. A completely different thing and have never heard the wife sound like that ..
Its awsome!!! Strong vibration, soft and smooth and damn good looking !!
You have viewed 8 out of 241 reviews