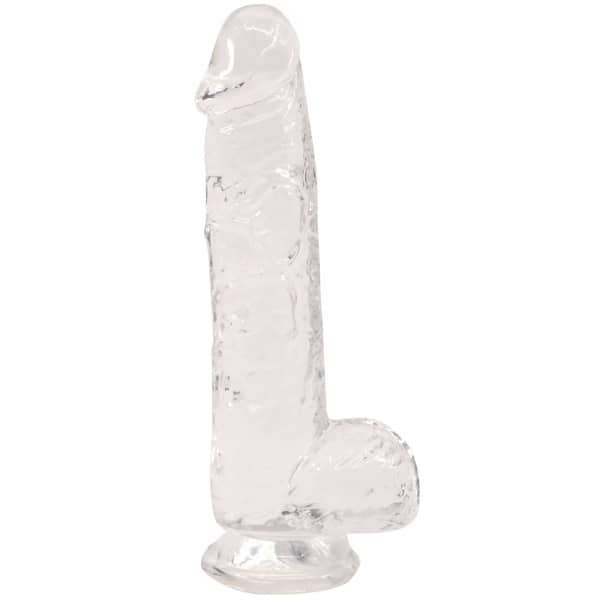 Lazy Dildo by ClearLust
17 cm long, Ø 3.3 cm - Very soft dildo with suction cup base and scrotum.
Out of Stock (more is on the way)
Details
Suction plug
Slightly bent to stimulate in the best way
Works both vaginally and anal
Handsfree
A transparent, slightly curved dildo with suction plug. The suction cup allows you to attach it to the floor, on the table, in the shower, in the bath, on the refrigerator or wherever you want as long as it is a flat surface, then you can play loose completely without having to use your hands.
Despite the name, Lazy Buttcock works just as well to use vaginally and the bend on it makes it reach the G-spot in a good way.
This stylish dong has a great flexibility and a clear grain for increased enjoyment. Made of soft jelly, it is just as suitable for use with a silicone-based lubricant as with a water-based one.
Would you love to have a way to fill your holes on your own? Always want to try pegging or strap-on sex? We like to telle you, it's time to add a Lazy Dildo by ClearLust to your drawer.
What is a dildo, exactly?
Hm.... this is our definition :

A dildo is a phallic-shaped toy intended for insertion, normally it comes without vibrations.
What's the point of a Lazy Dildo by ClearLust?
There are probably a billion different types of dildos on the market and just as many reasons someone might want to buy and use one.
To name a few: to affirm gender identity or sexuality, or experience gender euphoria
to make penetration possible when it otherwise wouldn't be due to partner genitalia, erectile dysfunction, relationship status, or partner availability
to explore double penetration, alone or with a partner
to extend the size of an existing phallus
Think about exactly what you want to use your dildo for and what features you want it to have before buying it.
If you want to use it anally, make sure it has a base

Figure out if you want it to be realistic
Worth mentioning: Most realistic dildos have a pronounced head.
This can increase the chances of hitting the G-spot during vaginal sex, but you might want to consider something smaller if you plan to use it for beginner anal play.
General
Body Zone
Vagina
Stimulation Type
Penetration
Product Type
Dildo with Suction
Brand
ClearLust
EAN
7350102752875
SKU
366468
Material
Material
Jelly
used with
Siliconebased Lube
Power
Powered by
Manually Operated
Dimensioner (Dildo)
Length
17,00 cm
Diameter
3,5
Dimensions (Package)
Length
27,00 cm
Width
15,00 cm
Height
6,00 cm
Weight
0,20 kg
Order now and get it by:
Saturday 10/12 - Monday 12/12
Free shipping
Free shipping on orders over 99 €
100% discreet packaging
SMS & e-mail package tracking
Was going to send it back but when it arrived and I saw it I wanted it in me, fills very well and you can drive completely without hands so good suction cup 👍🏻 Great
It's a bit on the smaller side with wow what I love about it. Makes my anal opening stretch really;)
Nice material and great feeling. Top purchase
Stylish and sexy toy but felt too small for my taste
As described, neither more nor less.
Strong suction plug.
A little small, thought it would be bigger both in length and width
I think this is nice, but a little too unstable to have against a tile wall or the shower glass but otherwise wow
Ollonet is nice when you have it in you, the veins do not feel so much
Soft and wonderful jelly material, wonderful forehead and best of all, the suction cup. Maybe a little too flexible to be able to get it in the ass without a little help, but nothing I am bothered by. Even a real cock may need help sometimes.
Perfect roughness (for me) so even though you have ridden it hard, you can still sit down afterwards. =)
I have only had it out on a test ride so there are more scaffolding to test with this nice racker. Longing until I get the opportunity to ride Doggy with it.
Cannon length if the whole comes in. Asian cowgirl is too short for if you put it directly on the floor, but regular Cowgirl goes well.
A brilliant purchase for those who do not want a crazy rough dildo to the ass. Complete with a small strong vibrator for the perineum / glans.
You have viewed 8 out of 67 reviews