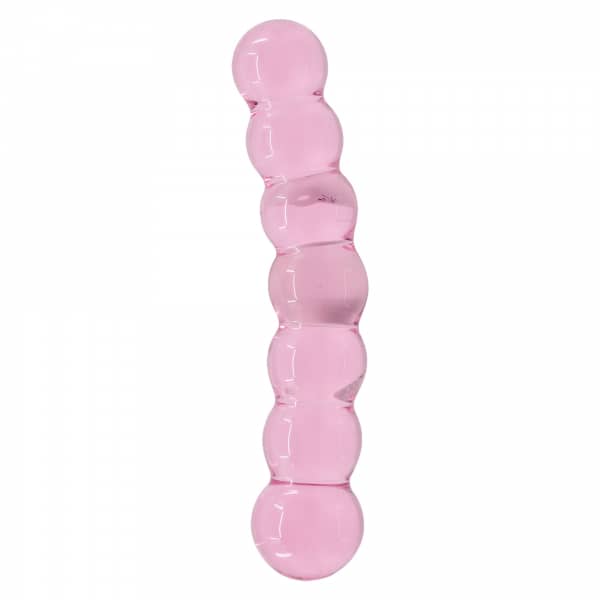 Icicles no. 2
Ø 3.2 cm, 15 cm long glass dildo with a nice bubbly structure.
Out of Stock (more is on the way)
Details
Beautiful glass dildo with bubbly shape
Smooth and flexible surface
Perfect for you who like a lot of structure
What makes the glass dildo Ice Bubble Dildo special?
Ice Bubble Dildo is a wonderfully bubbly glass dildo with nice curves. Every time you penetrate the dildo in and out, the smooth balls will be felt clearly so you get a varied stimulation. You can use both ends of glass dildos and all the balls are the same size.
Why should I choose a glass dildo?
Glass dildos are not only beautiful to look at, they also give a very special feeling. Because they are so hard in the material, the slightest curve and shape will feel extra clear. You can also heat or cool your glass dildo before using it to get a different kind of sensation. Then just rinse it under running water for a while before use and then it's just to explore!
Glass dildos can be used with all types of lubricants and are very easy to clean after use. This makes them extra hygienic and a good alternative if you have sensitive mucous membranes.
Is there anything else I need to know?
Glass dildo Ice Bubble Dildo is solid and thus does not risk breaking as long as you do not drop it on the floor. Should you drop your rod in the floor, we advise you to look through it thoroughly before use to ensure that it has not been damaged.
Would you love to have a way to fill your holes on your own? Always want to try pegging or strap-on sex? We like to telle you, it's time to add a Icicles no. 2 to your drawer.
What is a dildo, exactly?
Hm.... this is our definition :

A dildo is a phallic-shaped toy intended for insertion, normally it comes without vibrations.
What's the point of a Icicles no. 2?
There are probably a billion different types of dildos on the market and just as many reasons someone might want to buy and use one.
To name a few: to affirm gender identity or sexuality, or experience gender euphoria
to make penetration possible when it otherwise wouldn't be due to partner genitalia, erectile dysfunction, relationship status, or partner availability
to explore double penetration, alone or with a partner
to extend the size of an existing phallus
Think about exactly what you want to use your dildo for and what features you want it to have before buying it.
If you want to use it anally, make sure it has a base

Figure out if you want it to be realistic
Worth mentioning: Most realistic dildos have a pronounced head.
This can increase the chances of hitting the G-spot during vaginal sex, but you might want to consider something smaller if you plan to use it for beginner anal play.
How do I clean a glass dildo?
Rinse the toy gently in lukewarm water and then use a cleaning toy designed for sex toys to disinfect it and protect the material. We recommend Mshop Care Clean IT which is easy to use! Spray on the rinsed toy and let the spray work for about 30 seconds. Then rinse it again and let it air dry or dry with a clean towel. Clear!
How do I store it?
Store the Ice Bubble Dildo in the included storage bag, so it stays fresh and dust-free between uses.
General
Body Zone
Vagina
Stimulation Type
Penetration
Product Type
Glass Dildos
Brand
Glassy
EAN
7350102751304
SKU
544916
Material
Material
Glas
used with
Siliconebased Lube
Power
Powered by
Manually Operated
Dimensioner (Dildo)
Length
15,00 cm
Diameter
3,8
Weight
0,25 kg
Dimensions (Package)
Length
25,50 cm
Width
8,00 cm
Height
5,00 cm
Weight
0,28 kg
Order now and get it by:
Saturday 10/12 - Monday 12/12
Free shipping
Free shipping on orders over 99 €
100% discreet packaging
SMS & e-mail package tracking
Very nice feeling with different balls
Recommended for anal use. Special feeling with balls when you bring it in and out.
So exciting to test both cold and hot. Truly a whole new sensation!
Used with my partner, and we were both pleasantly surprised.
Beautiful inside and out <3
Not only is it so stylish and I feel luxurious in it, it was absolutely stunningly beautiful! My partner and I had it in the freezer before and it became so exciting with that kind of sensation from the toy itself ?! Fantastic product - can not recommend it enough! In my opinion - just the right size, but it should be emphasized that everyone is different ..!
Slightly many text messages until it arrived in the mail, otherwise great!
It was smaller than I thought it would be, but still nice
Feels luxurious but have not tried yet.
Wonderful feeling with the bullets that go everywhere
It is wonderful with such a hard material, put it in the fridge or heat it in hot water and you have a new sensation! I love it! And it looks good too!
You have viewed 8 out of 39 reviews