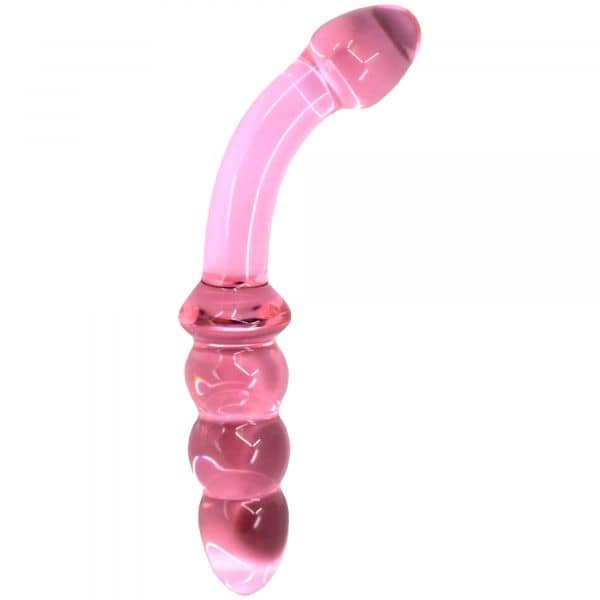 Glassy Rose Bubble G-spot
Ø 3 cm, 16 cm long glass dildo that can be used for both G-spot stimulation or wonderfully structured penetration.
Out of Stock (more is on the way)
Details
Perfect for G-spot stimulation
Can be used from both ends
Beautifully marked balls
Smooth surface and solid glass
What makes the glass dildo Bubble G-spot special?
Bubble G-spot is a curved glass dildo with a wonderfully bubbly structure that will stimulate you in different ways, depending on which end you use.
The curved part is particularly suitable for G-spot stimulation because you can get a nice pressure and so on by massaging the G-spot in depth. If you instead use the other, bubbly, part of the glass dildo, you will feel the beautiful structure every time you move the dildo in and out.
Why should I choose a glass dildo?
Glass dildos are not only beautiful to look at, they also give a very special feeling. Because they are so hard in the material, the slightest curve and shape will feel extra clear. You can also heat or cool your glass dildo before using it to get a different kind of sensation. Then just rinse it under running water for a while before use and then it's just to explore!
Glass dildos can be used with all types of lubricants and are very easy to clean after use. This makes them extra hygienic and a good alternative if you have sensitive mucous membranes.
Is there anything else I need to know?
Glass dildo Bubble G-spot is solid and thus does not risk breaking as long as you do not drop it on the floor. Should you drop your rod in the floor, we advise you to look through it thoroughly before use to ensure that it has not been damaged.
Would you love to have a way to fill your holes on your own? Always want to try pegging or strap-on sex? We like to telle you, it's time to add a Glassy Rose Bubble G-spot to your drawer.
What is a dildo, exactly?
Hm.... this is our definition :

A dildo is a phallic-shaped toy intended for insertion, normally it comes without vibrations.
What's the point of a Glassy Rose Bubble G-spot?
There are probably a billion different types of dildos on the market and just as many reasons someone might want to buy and use one.
To name a few: to affirm gender identity or sexuality, or experience gender euphoria
to make penetration possible when it otherwise wouldn't be due to partner genitalia, erectile dysfunction, relationship status, or partner availability
to explore double penetration, alone or with a partner
to extend the size of an existing phallus
Think about exactly what you want to use your dildo for and what features you want it to have before buying it.
If you want to use it anally, make sure it has a base

Figure out if you want it to be realistic
Worth mentioning: Most realistic dildos have a pronounced head.
This can increase the chances of hitting the G-spot during vaginal sex, but you might want to consider something smaller if you plan to use it for beginner anal play.
General
Body Zone
G-Spot, Vagina
Stimulation Type
Penetration
Product Type
Glass Dildos
Brand
Glassy
EAN
7350102751298
SKU
581562
Material
Material
Glas
Dimensioner (Dildo)
Length
16,00 cm
Diameter
3,00 cm
Dimensions (Package)
Length
25,50 cm
Width
8,00 cm
Height
5,00 cm
Weight
0,28 kg
Order now and get it by:
Saturday 10/12 - Monday 12/12
Free shipping
Free shipping on orders over 99 €
100% discreet packaging
SMS & e-mail package tracking
Love that it is made of glass, gives an incredibly nice feeling. Just as lovely anal when you ride your partner 😍
My wife and I were in the store and she bought this rod. She wanted to test it the same day and she was very satisfied. The shape of the rod was amazingly simple, my wife.
So in my opinion a good buy :)
Beautiful and lovely glass dildo! Beautiful to look at.
Really appreciate that it is so easy to clean, and a big plus that it can be heated before;)
I was probably a little skeptical. But being able to heat it up really makes a difference.
It was fantastic, highly recommend!!💕 💦👅 Arrived very quickly with it 😊 can't live without my glass dildo 😆🤭
You have viewed 8 out of 50 reviews