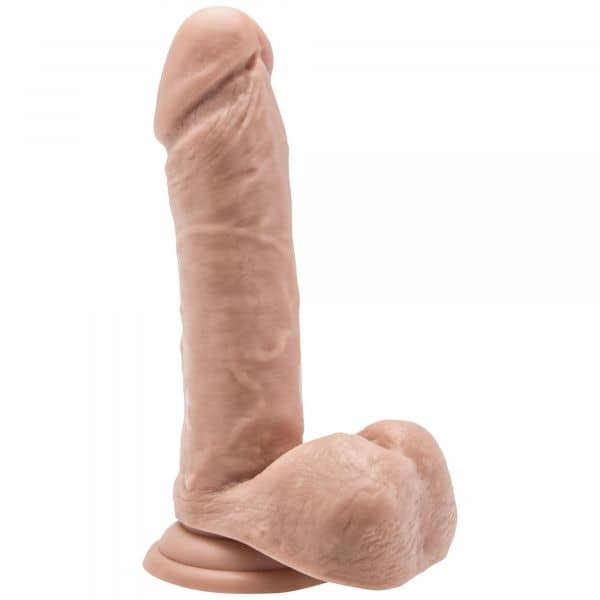 Get Real 7 Inch
18 cm long, Ø 4.7 cm. True-to-life dildo that is slightly bent with a sturdy suction plug base.
In stock
Details
Very lifelike dildo
Steady suction plug in the base
Marked forehead for extra stimulation
What makes it special?
Get Real 7 Inch is a classic dildo with a very natural look and feel!
Dildos have clear veins and a marked glans, which gives extra stimulation. Thanks to its sturdy scrotum, this dildo can be used both vaginally and anal because the scrotum acts as a stop.
Get Real 7 Inch is slightly curved and up to 4.7 cm in diameter. The shaft is slightly narrower and the dildo is widest across the glans, which is perfect for you who like deep and full stimulation.
At the bottom of the dildo is a stable suction plug that you can use to attach the dildo to flat surfaces and enjoy hands-free stimulation!
Would you love to have a way to fill your holes on your own? Always want to try pegging or strap-on sex? We like to telle you, it's time to add a Get Real 7 Inch to your drawer.
What is a dildo, exactly?
Hm.... this is our definition :

A dildo is a phallic-shaped toy intended for insertion, normally it comes without vibrations.
What's the point of a Get Real 7 Inch?
There are probably a billion different types of dildos on the market and just as many reasons someone might want to buy and use one.
To name a few: to affirm gender identity or sexuality, or experience gender euphoria
to make penetration possible when it otherwise wouldn't be due to partner genitalia, erectile dysfunction, relationship status, or partner availability
to explore double penetration, alone or with a partner
to extend the size of an existing phallus
Think about exactly what you want to use your dildo for and what features you want it to have before buying it.
If you want to use it anally, make sure it has a base

Figure out if you want it to be realistic
Worth mentioning: Most realistic dildos have a pronounced head.
This can increase the chances of hitting the G-spot during vaginal sex, but you might want to consider something smaller if you plan to use it for beginner anal play.
Order now and get it by:
Saturday 10/12 - Monday 12/12
Free shipping
Free shipping on orders over 99 €
100% discreet packaging
SMS & e-mail package tracking
Dildo with a very lifelike appearance
We have bought a few dildos over the years, but this one feels really nice and
has a really lifelike appearance .. Just the right size ..
Top rating..
wow what a big oh natural it was great material good suction cup but it was big for my mouse had to drive with my itchy thruster to make me horny then it sat as cast for my little wet mouse was how nice any orgasm on orgasm can warmly recommend this lifelike glorious cock gets blissful by just looking at its stately Buy
Realistic feeling but it was a bit big for me haha good suction plug stable.
Nice, feels real, easy to clean and it did not smell at all strange or similar to others with a plastic smell. I really like it! Would definitely recommend it.
So well recommend that everyone should buy this
Feels "genuine". If the suction cup is not used, it will be a good handle.
Totally sick! Sprayed the first time I used it, MAGICAL! Recommended if you like a little bigger.
A little too hard for my taste.
You have viewed 8 out of 105 reviews