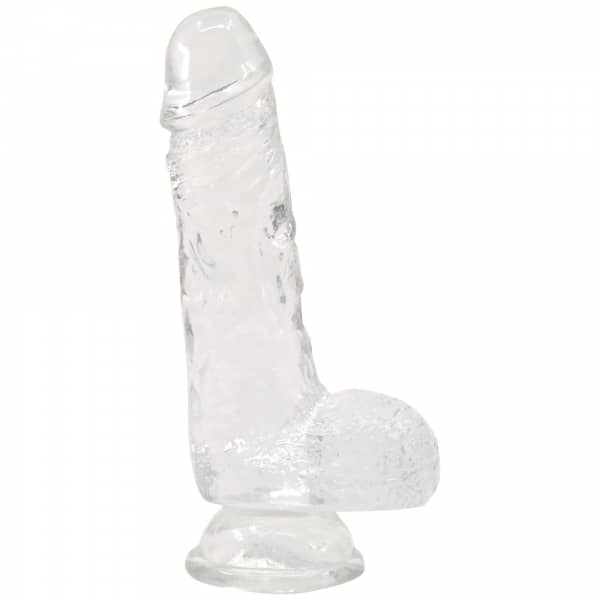 Faultless Dildo by ClearLust
21.5 cm long, Ø 4.8 - Dildo with suction plug.
Back in stock 22 december
Details
Suction plug
Bendable
Suitable for both vaginal and anal use
Works to use in several strap-on harnesses
Faultless Dildo is a very popular dong, it is stylish, solid and functional. It is crystal clear in color, has clear veining and a marked forehead. Made of slip-friendly jelly material, the Faultless Dildo is flexible and very flexible while being firm in shape.
A big advantage of this dong is that it has a suction plug, which means that you can use it "hands-free"; easily attach it to a smooth surface on the floor, in the shower, on the refrigerator, in the bathtub, or wherever you wish.
Since Faultless Dildo has a suction plug, it works to use in several different types of strap-on harness as it has an automatic stop. This stop, and also the scrotum, also allows you to use it anal if you so wish.
Which lubricant should I use?
Use together with a water-based lubricant, we recommend Mshop Care Lube It for an even more comfortable experience.
Would you love to have a way to fill your holes on your own? Always want to try pegging or strap-on sex? We like to telle you, it's time to add a Faultless Dildo by ClearLust to your drawer.
What is a dildo, exactly?
Hm.... this is our definition :

A dildo is a phallic-shaped toy intended for insertion, normally it comes without vibrations.
What's the point of a Faultless Dildo by ClearLust?
There are probably a billion different types of dildos on the market and just as many reasons someone might want to buy and use one.
To name a few: to affirm gender identity or sexuality, or experience gender euphoria
to make penetration possible when it otherwise wouldn't be due to partner genitalia, erectile dysfunction, relationship status, or partner availability
to explore double penetration, alone or with a partner
to extend the size of an existing phallus
Think about exactly what you want to use your dildo for and what features you want it to have before buying it.
If you want to use it anally, make sure it has a base

Figure out if you want it to be realistic
Worth mentioning: Most realistic dildos have a pronounced head.
This can increase the chances of hitting the G-spot during vaginal sex, but you might want to consider something smaller if you plan to use it for beginner anal play.
General
Dildo Shape
Realistic
Features
Suction-Cup, Extra Large
Body Zone
Vagina, Anal
Stimulation Type
Penetration
Mshop Type
Dildos
Brand
ClearLust
EAN
7350102752868
SKU
398875
Material
Material
Jelly
used with
Siliconebased Lube
Power
Powered by
Manually Operated
Dimensioner (Dildo)
Length
22,5
Diameter
5,00 cm
Dimensions (Package)
Length
28,50 cm
Width
14,50 cm
Height
9,00 cm
Weight
0,57 kg
Order now and get it by:
Tuesday 5/12 - Wednesday 6/12
Free shipping
Free shipping on orders over 99 €
100% discreet packaging
SMS & e-mail package tracking
I was a little put off by the size at first but it went in like butter! Only tested twice so far and it does the job, for sure.
It is incredibly nice in the ass!
Both my girl and I use it in the butt with water-based lubricant, Back Door.
Nice to sit and itch on it and at the same time get sucked
BIG. Hard to get into at first. Hard forehead. After a while, the size itself feels good BUT the glans has too hard an edge for my taste, it hurts when you pull it outwards. :( Do not understand you who think this dildo is nice ... or am I just sensitive? Have actually given birth to children and this dildo was about as awful.
My wife thinks it is super nice.
Rides on it and she gets orgasm every time.
Feels completely fulfilled in the pussy
Was a little shocked when I got this home and discovered that it was rougher than I expected! Thought it was wonderfully nice but in some situations it came in a little too far for my taste, but it is quite long so not unexpected right away! As others have said, the suction cup is not a booster but I think it is a good dildo anyway
So nice, soft and wonderful
Perfect size, adheres well to tiles, only tested on one occasion so far but will be many more
Best buy !!
Did not think it would be that big, was shocked when I opened it. But my God, best dildo I've had !!
You will not be disappointed if you get one like this!
It is big as many have said but absolutely wonderful anal.
Once it slides into the anal, it is wonderful and amazing!
The suction cup is quite weak to the size of a dildo, does not work against ordinary walls but against the shower wall it is fantastic and you get wonderful orgasms.
You have viewed 8 out of 190 reviews