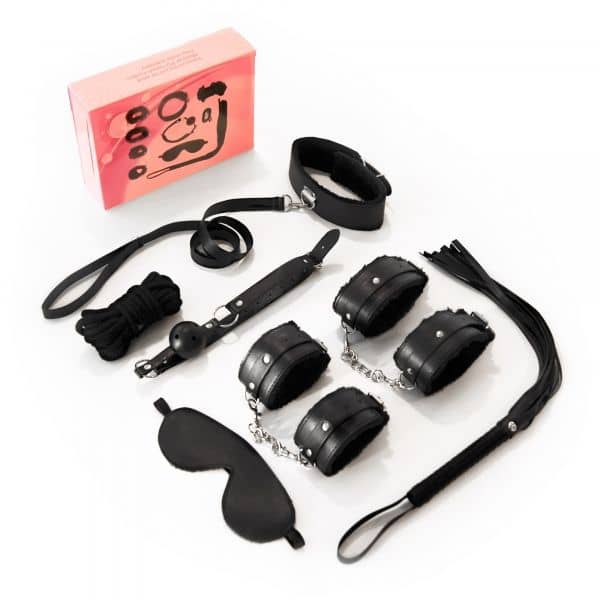 Stora fetishboxen
BDSM and bondage kit with ropes, blindfold, whip, hand and leg irons, gagball and necklace with a leash.
In stock, offer ends tomorrow
Details
extremely affordable
Well-stocked kit in the whole 8 parts
All you need for exciting BDSM games
Handcuffs and shackles in leather
Adjustable shackles fastened with Velcro
Gagball with adjustable strap
Necklace with leash
Stylish blindfolded
Flogger with comfortable handle
Extra long cord - 5 meters
What makes it special? H3>
It is a particularly wrenching feeling to be the one who decides everything and have full control of the game. You can do what you want, and it is that determines how the game will develop. Or maybe you're the one who turns to relinquish control and be the inferior? P>
Why limit the games? This large and very affordable fetish box has everything you could want for wonderful experiences - the set of eight parts is filled with variation in erotic play with forbidden BDSM play. P>
The great fetish box contains: strong> p>

Hand and hobbles strong>
Hand and ankle cuffs sitting with a good and durable chain and round metal ring. The belts have multiple holes and are adjustable. They are simple to use and fits really well for beginners who like role playing. But they are also powerful enough to be used by more experienced bondage- enthusiasts. The material is synthetic leather and the inside is made of soft plush. P>

Collar with string strong>
Collar with several holes that make it adjustable and fits all. Included cord is easy to put on and take - you can also attach it to other toys such as håndmanchetter, nipple clamps and other belts. The material is synthetic leather and the inside is soft plush. P>


Flogger strong>
This whip has extra wide band around the handle, which makes it particularly easy to stick on. The handle is even extra long and has a strap which ensures that it can not be lost. P>


Blindfold strong>
When a sense shielded, strengthened the other senses more. This is exactly what happens when you use a blindfold eyes. These blindfolds has soft plush on the inside that feels nice against your face. The tape is elastic and fits all, but is still close to the face and not let any light. P>


Gagball strong>
A gagball is very typically used in the BDSM world. With a gagball fratges opportunity to speak with his partner, and we must find other ways to communicate with each other. A very titillating feeling most people think. This gagball is a massive ball of black plastic, which is fastened at the rear of the head. The strap is adjustable and fits most. P>


Rope strong>
A really strong bondage rope in high quality. The rope is extraordinarily far - all 5 meters you have to play with. Only the imagination limits! P>
Hur rengör jag den?
Du rengör enkelt din sexleksak med en rengöringsprodukt speciellt framtagen för sexleksaker och ljummet vatten.
Hur förvarar jag den?
Skyddar du dina sexleksaker så håller dem längre. Undvik att förvara dina sexleksaker så att de rör varandra. Förvara på en dammfri, torr och sval plats.
Dimensions
Weight
0,60 kg
General
Brand
Cave Master
Product Type
BDSM
SKU
565994
Order now and get it by:
Wednesday, 21/04 - Friday, 23/04
Free shipping
Free shipping on orders over 99 €
100% discreet packaging
SMS & e-mail package tracking
OK quality and comfortable. Some of the metal bits look a little thin, will see how they resist time and enthusiasm.