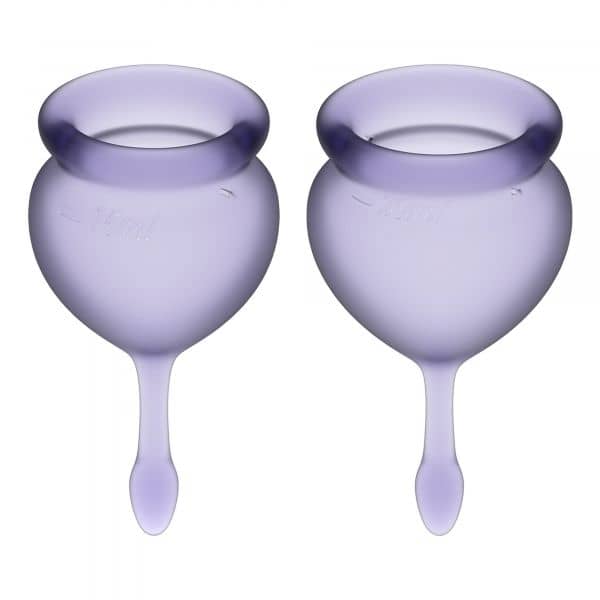 Satisfyer Feel Good Menstrual Cups Purple
Two soft menstrual cups for minimal leakage
Only 1 left in stock
Details
Kit with 2 menstrual cups
2 different sizes
Made of soft silicone
Ergonomic shape for minimal leakage
Holds 15 ml & 20 ml
What makes it special?
Feel Good Menstrual Cups is a 2-pack with menstrual cups from the well-known brand Satisfyer.
The menstrual cups come in two different sizes and are suitable for both new and experienced users of menstrual cups. They are made of very soft silicone that shapes itself to the body and provides secure protection. The flared edge at the top closes extra tightly around the vaginal walls to minimize the risk of leakage.
Test both cups and see which one feels best for your body. You can also vary which cup you use depending on how much you bleed that day on the bike.
Feel Good Menstrual Cups have a spike in the bottom that facilitates entry and exit. The spike is very soft and usually does not feel when the cup is in place. If you still feel it, you can cut it to the desired length.
How do I use a menstrual cup?
Fold the menstrual cup twice and hold it together with your thumb and 2-3 fingers when you insert it into the vagina. Many people think that it is easiest to do this when sitting down on the toilet.
Once inside the vagina, loosen the grip so that the cup unfolds. Sometimes you may need to screw a little on the cup by spinning it or pulling lightly on the spike.
When you want to empty the cup, you sit on the toilet and insert your fingers into the vagina and squeeze the cup. Do not pull on the spike as this may feel uncomfortable. Without folding the cup again and empty the contents.
Rinse or dry your menstrual cup before inserting it again, making sure that nothing is stuck in the small valve holes at the top of the cup.
At first it may feel unusual to bring in / take out the cup, but you get into the technology quickly - so do not give up!
How big are the menstrual cups?
The smaller menstrual cup holds 15 ml and is 7.1 cm high (including the spike), with a diameter of 3.8 cm.
The larger menstrual cup holds 20 ml and is 7.1 cm high (including the spike), with a diameter of 4 cm.
How do I clean it?
Rinse the menstrual cup in lukewarm water and then use a cleaner that is intended for sex toys to disinfect it and protect the material. We recommend Mshop Care Clean IT which is easy to use! Spray on the rinsed menstrual cup and let the spray work for about 30 seconds. Then rinse it again and let it air dry or dry with a clean towel.
You can also boil the menstrual cups when the period is over for an extra clean feeling.
How do I store it?
Store the menstrual cups cool and dark so that they last longer, for example in a cloth bag or in the bathroom cabinet.
General
Product Type
Intimhygien
Brand
Satisfyer
EAN
4061504002101
SKU
581515
Material
Material
Silicone
Waterproof
100% Waterproof
Dimensions (Package)
Length
14,50 cm
Width
10,50 cm
Height
5,00 cm
Weight
0,16 kg
Order now and get it by:
Wednesday 28/9 - Friday 30/9
Free shipping
Free shipping on orders over 99 €
100% discreet packaging
SMS & e-mail package tracking