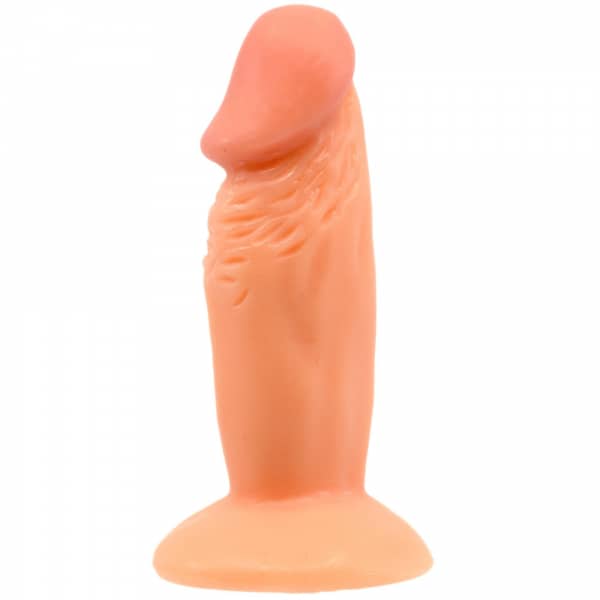 Realistic plug
Penis-shaped anal plug with suction plug base. Length: 11.5 cm and Ø - 3 cm
Out of Stock (more is on the way)
Details
Prominent forehead
Strong suction plug
Butt plug that also works as a dildo
Flexible with stable
Realistic plug may be small but is nibbling good! With its realistic penis design and extra prominent forehead, it is a favorite of many. Realistic plug's main purpose is to be a butt plug, but it also works well to use vaginally as a smaller dildo.
Realistic plug has a really strong suction plug which allows you to attach it almost anywhere; in the shower, in the bathtub, on the floor, in the kitchen; wherever you want to have a good time. The dong itself is flexible but still stable.
Many people like to have Realistic plug to warm up with before penetrating anal sex with a partner, the shape of it makes it extra suitable for this purpose. But many are also those who use Realistic plug as a masturbation toy or with a partner during sex.
Use Realistic plug together with a silicone-based lubricant, especially for anal games.
General
Shape
Penis
Size
S
Body Zone
Anal
Stimulation Type
Penetration
Product Type
Buttplugs
Brand
UniSexy
EAN
7350102753018
SKU
512459
Material
Material
PVC
used with
Siliconebased Lube
Dimensions (Buttplug)
Length
11,5 cm
Diameter
3 cm
Dimensions (Package)
Length
21,00 cm
Width
15,00 cm
Height
5,00 cm
Weight
0,14 kg
Order now and get it by:
Saturday 10/12 - Monday 12/12
Free shipping
Free shipping on orders over 99 €
100% discreet packaging
SMS & e-mail package tracking
My boyfriend wanted to try anal sex, but I was not quite ready for it. Therefore, we bought this as a sample. I have to say that it was good enough naughty and that it can do something! Will soon try a slightly larger model before we throw ourselves into the real deal.
In the smallest team but very nice as it has such a prominent forehead. Really lovely in the ass! The suction cup is awesome!
It is quite small, and it goes out quite easily. The suction plug is tight.
Tested today for the first time, my first plug but I have used 2 fingers before so it was not a problem. If you sit well, because it has a shape and is not only smooth, it will be a bit bumpy, but there is no danger that way. it is quite small but it does what it is supposed to do well!
Small but nibbling good. Knows his thing despite the small size. The suction plug fits great!
Small and perfect for us "cramped"
Used this as a dildo and is perfect for me who is tight, it works just as well anal with its nice and "soft" surface. Best of all, it has a suction power.
Really nice material and really nice in the body even though it is smaller than what I usually take in the ass.
You have viewed 8 out of 66 reviews