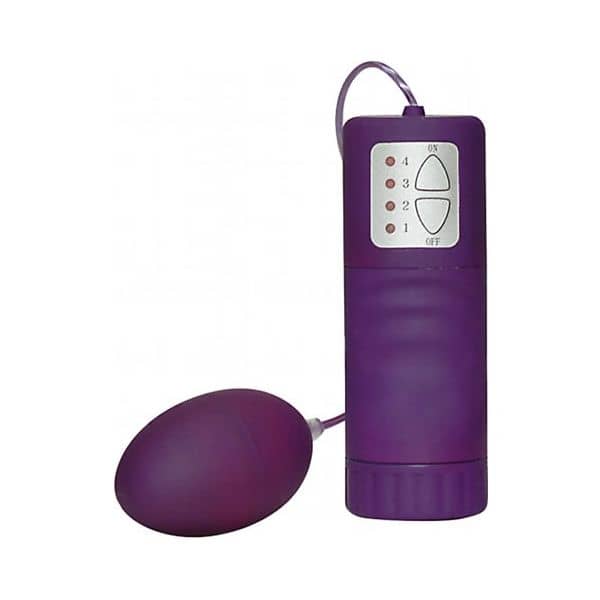 Purple Pill Velvet
Vibrating eggs. Controlled with hand controlSilk-smooth materialFour different vibration modesPowerful motor
Only 4 left in stock
Details
Controlled with hand control
Silky smooth material
Four different vibration modes
Powerful engine
Purple Pill Velvet is a vibrating egg that you control via a remote control that is attached to one short end of the egg.
This powerful vibrating egg in a lovely purple shade works just as well to use for clitoral stimulation as to have vaginal. Hold it against the labia or let it dangle down and tickle your partner's entire body.
A tip is to have this egg in you when you have oral sex, have control in your hand and thus have control over how strong vibrations you want, or give control to your partner and let him decide the pace.
Purple Pill Velvet is made of ABS plastic and has a silky smooth PU cover that works just as well to use with water-based as with silicone-based lubricant.
Choose between four different vibration modes via a simple push of a button on the egg's hand control.
General
Vibrator Shape
Egg Vibrators
Body Zone
Vagina
Stimulation Type
Vibration
Features
Remote Control
Speed Adjustment
4 levels
used with
Waterbased Lube
Product Type
Egg Vibrators
Brand
You2Toys
EAN
4024144562572
SKU
512442
Material
Material
ABS-plast withPU-Surface
Waterproof
Splash proof
Power
Remote
Remote with wire
Powered by
2 x AA (LR06)
Batteries included
No
Dimensions (Vibrator)
Length
5,5 cm
Diameter
3,5 cm
Dimensions (Package)
Length
20,00 cm
Width
13,00 cm
Height
4,50 cm
Weight
0,13 kg
Order before 10:30 and get it by:
Tomorrow 7/2 - Wednesday 8/2
Free shipping
Free shipping on orders over 99 €
100% discreet packaging
SMS & e-mail package tracking
The vibrations are far too strong even for me who needs strong direct stimulation to come. Even the lowest vibration level feels extremely hard, uncomfortable. You have to be very very heated and horny before.
It is also a bit difficult to get the egg to sit in the right place against the g-spot without slipping out or too far in. Should have had a different shape or more surface texture.
A plus that the cable to the remote control is much longer than I thought.
All in all, not a favorite with us, but together with a vibrator against the clitoris, I came anyway.
The lady likes it sharply !! Order a new one now when it is worn out = D
WOOOOOW ... what an experience, it's wonderful. When this is worn out (which it will be fast) then I will definitely buy more. Wish you all wonderful moments with this lovely thing. :-)
A very good selection. Fast and discreet delivery.
Fantastic and easy-to-handle product
This product is absolutely amazing! It is easy to handle and has four different levels (speeds). My boyfriend also likes this product a lot and we can enjoy this together. I can highly recommend it!
Vibrates very strongly, too much at the lowest level, otherwise smooth and comfortable.
You have viewed 8 out of 27 reviews