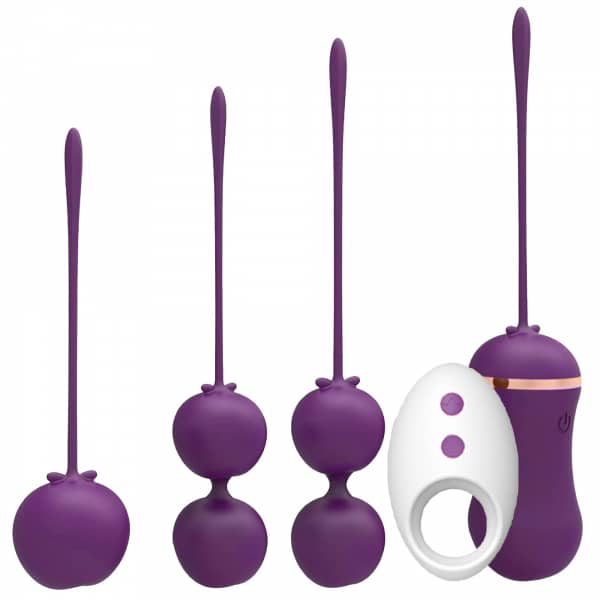 Kegel Balls with remote control
Set of 3 pinballs and an egg vibrator with remote control
Only 7 left in stock
Details
Kit with 3 pinch balls & 1 egg vibrator
Increasing weights for increased challenge
Remote control for the egg vibrator
10 vibration modes
Silky smooth silicone material
Rechargeable egg vibrator
What makes these balloons special?
Combine benefit with pleasure with this kit which contains three different balloons and an egg vibrator!
Exercise your hamstring muscles and take care of your sexual health at the same time with this luxurious kit. The three push balls come in different weights - 39 g, 45 g and 64 g - so you can gradually exercise your pelvic floor muscles. When you feel that you can easily pinch with the lightest pinball, you can challenge yourself and test one of the heavier balls. The pinch balls also have loose balls inside them that move in step with your body movements, which helps to activate your pinch muscles.
This kit also comes with an egg vibrator with remote control that you can use both on your own or with a partner. The egg vibrator has 10 different vibration levels that you can explore to find your favorite. Use the egg vibrator in you when you masturbate or make everyday chores more fun by carrying the egg in you when you wash, go for a walk or cook. If you want to take the pleasure even further, you can let a partner control the remote control.
Both the ball balls and the egg vibrator are made of soft, body-safe silicone and are easy to insert and remove thanks to the "silicone tail", which is reminiscent of a tampon string.
How do I use the balloons?
Vary your pelvic training with the different weights you want and adapt your training as you strengthen your hamstrings.
Start by emptying your bladder before inserting the balls. Insert the pinch ball - just like you insert a tampon. Use a little water-based lubricant to make it easier. If you have problems getting the ball in, lift one leg or lie down on your back.
To make the pinch ball stay in the vagina, tense the muscles in the pelvic floor. You should be able to feel the balls pushing down. After a while, you will not think about it as much, just like with a tampon.
Recommendations from gynecologists are to train with balls at least 10-15 minutes per day, otherwise there is no time limit. The longer, the better!
How do I control the egg vibrator?
To start the egg vibrator, press and hold the on button on the vibrator. Then press the same button once, or the upper button on the remote control to start the vibration. To turn off the vibrator, hold down the button on the vibrator, or the upper button on the remote control, for about 3 seconds.
Dimensions of the ball balls:
Lightest ball: Insertable length: 3 cm, width: 3.5 cm Middle ball: Insertable length: 6 cm, width: 2.8 cm Heaviest ball: Insertable length: 6.5 cm, width: 3 cm
General
Stimulation Type
Vibration, Penetration
Body Zone
Vagina
Product Type
Kegel balls
Brand
Ladylove
EAN
6972456020168
SKU
582206
Material
Material
Silicone
Waterproof
100% Waterproof
Power
Powered by
USB Re-chargeable
Dimensions (Package)
Length
17,70 cm
Width
4,10 cm
Height
13,00 cm
Weight
0,34 kg
Order now and get it by:
Saturday 10/12 - Monday 12/12
Free shipping
Free shipping on orders over 99 €
100% discreet packaging
SMS & e-mail package tracking
So smooth and beautiful! You look forward to the daily training!