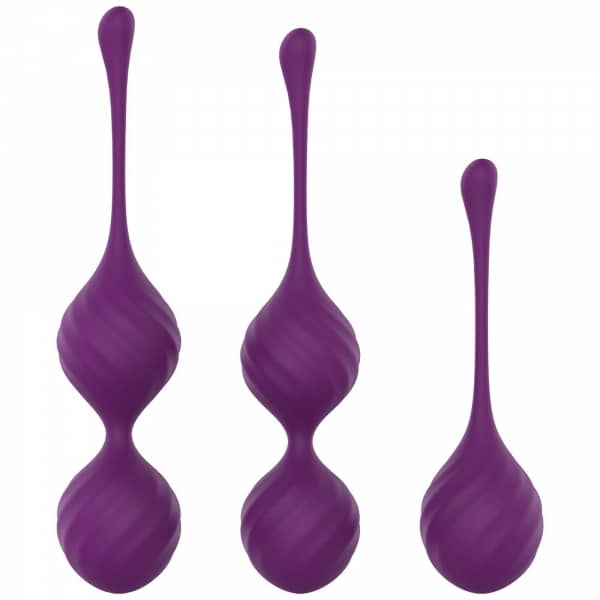 Kegel Ball Three pcs Set purple
A set of 3 different balls to train the muscles!
In stock
Details
3 different weights to choose from - 46 g, 87 g and 104 g
Exercise the pelvic floor
Prevents incontinence
More control and stronger orgasms
Silky smooth silicone
What makes these balloons special?
Exercise your pinch muscles with this nice purple set with 3 pinch balls in different weights!
Squeeze balls help you train your squat muscles, which can help you have better orgasms, avoid incontinence problems and can also help with a faster recovery after a possible birth. The pinch balls have loose balls inside them that move in step with the body and help to activate your pinch muscles.
The set includes three different balloons. The lightest ball weighs 46 grams and has only one ball. The second heaviest ball weighs 87 g and has two balls. The heaviest ball weighs 104 grams and also has two balls. Start with the lightest pinball first and practice until you feel ready to challenge yourself with a heavier pinball!
How do I use them?
Start by emptying your bladder before inserting the balls. Insert the pinch ball just as you insert a tampon. Use a little water-based lubricant to make it easier. If you have problems getting the ball in, lift one leg or lie down on your back.
To make the pinch ball stay in the vagina, tense the muscles in the pelvic floor. You should be able to feel the balls pushing down. After a while, you will not think about it as much, just like with a tampon.
Recommendations from gynecologists are to train with balls at least 10-15 minutes per day, otherwise there is no time limit. The longer, the better!
Clean after use with a cleaner specially designed for sex toys to extend its life. Do not use soap, detergent or alcohol as it may damage the material.
General
Stimulation Type
Penetration
Body Zone
Vagina
Product Type
Kegel balls
Brand
Ladylove
EAN
7350102752899
SKU
582189
Material
Material
Silicone
Dimensions (Product)
Length
11,5 - 16 cm
Width
3,5 cm
Dimensions (Package)
Length
14,00 cm
Width
14,00 cm
Height
4,00 cm
Weight
0,30 kg
Order now and get it by:
Saturday 10/12 - Monday 12/12
Free shipping
Free shipping on orders over 99 €
100% discreet packaging
SMS & e-mail package tracking
Works much better than I could have hoped for!
After giving birth to two children, I have not been able to use a tampon
But now I can use the tampon again
Have bought pinch balls before but they have been too light ... These, on the other hand, give me a challenge and feel a bit like a "rubix cube" for the pinch muscles!
I who love to kniiipa !! Great fun! - I who love to kniiipa !! Great fun!