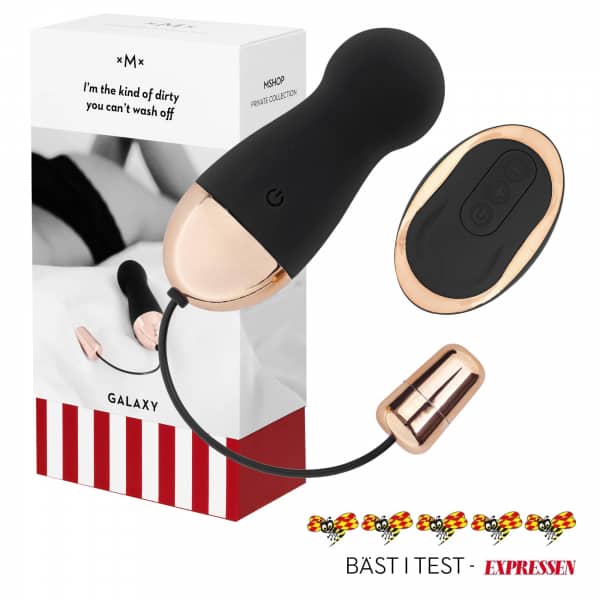 Galaxy
Vibrating eggs. Designed for foreplay outside the bedroom with quiet vibrations and remote control.
In stock
Details
Wireless egg vibrator
Give orgasms with the remote control
Most affordable product in its category
Expressen's Test Winner 2019!
30 meters range
Great for Public Play
Well-known and popular
What makes Galaxy Vibrant Egg special?
Raise the temperature before you even get to the bedroom - give your partner orgasm at a distance of 30 meters!
With Galaxy vibrating eggs you take your sex life to new levels, experiment with the endless possibilities that this egg vibrator realizes! Use it for foreplay, take it on restaurant visits or why not on the shopping spree?
This vibrator has 10 different vibration modes to choose from and is rechargeable so the enjoyment can be even longer. Use it to stimulate, for example, the clitoris, nipples or diaphragm.
Designed to sit well in place for a long time, easily manageable and give varied vibrations.
How do I use it?
Galaxy The egg is first charged with the included USB cable and started with a simple push of a button. It is small and flexible so you can use it at any time without anyone else noticing, perfect for public play!
Galaxy The egg has a velvety smooth surface so it is very easy to insert. You can easily switch vibration modes with the plus and minus buttons on the remote control. Should it be too nice or if you want to tease your partner a little extra, you can turn off the egg quickly by holding down the On / Off button for two seconds. The remote control is flexible with clear buttons so you can easily change positions even if you keep the control in your jacket pocket.
You can also choose to control the vibrations with the button on the egg which is perfect when you want to use it yourself or during sex.
Tip: you can use Galaxy vibrating eggs to get a nicer moment in the shower or bathtub, but then skip the remote control!
Which lubricant should I use?
We recommend using the water-based lubricant Mshop Care Lube It together with this Galaxy egg for an even more pleasant experience.
What makes Private Collection special?
With over 30 years of experience behind us, we have designed the Mshop Private Collection - developed to provide the perfect combination between high quality and ergonomic design. All sex toys in the collection have a silicone cover of the highest quality, and are designed to maximize your sexual pleasure.
How do I charge it?
This vibrator can be recharged via the included USB charger, on the top of the vibrating egg there is an input for charger marked with DC.
How do I clean it?
You can easily clean your sex toy with a cleaning product specially developed for sex toys. We recommend using Mshop Care Clean It which is easy and fast to use! Rinse the toy you want to clean in lukewarm water and then shake off excess water. Apply the spray and allow the toy to air dry. Clear! It will not be easier than that.
How do I store it?
If you protect your sex toys, they will last longer. Avoid storing your sex toys so that they touch each other. Store your sex toy in the associated storage bag in a dust-free, dry and cool place.

Low (Single)

Medium (Single)

High (Single)

Ultra (Single)

Pulse (Single)

Peak (Single)

Bounce (Dual)

Echo (Dual)

Massage (Single)

Heartbeat (Single)
General
Vibrator Shape
Egg Vibrators
Body Zone
Vagina
Stimulation Type
Vibration, Penetration
Features
Remote Control, Water-Proof
Product Type
Egg Vibrators
Brand
Mshop Private Collection
EAN
7350102750048
SKU
571414
Material
Material
ABS plast/Silicone
Waterproof
Splash proof
Power
Remote
Yes
Powered by
USB Re-chargeable
Dimensions (Vibrator)
Length
8,50 cm
Diameter
3,00 cm
Dimensions (Package)
Length
23,50 cm
Width
12,80 cm
Height
6,80 cm
Weight
0,35 kg
Order before 10:30 and get it by:
Tomorrow 7/2 - Wednesday 8/2
Free shipping
Free shipping on orders over 99 €
100% discreet packaging
SMS & e-mail package tracking
Problems charging when it is broken.
So my girl loves this one !!
But now I have bought 2 pcs and they both break when we charge it.
Good product but it becomes embarrassing that it breaks so easily when landing.
What do you think I should do?
Buy a 3rd of you or try to find a similar product elsewhere?
Know she wants just this but what should I do ??
Works exactly as you want it to work, except for one thing, it has poor battery life. Do not know how many times it died just when I will come !!
It sounds great and it is not discreet at all even if it is inside.
It vibrates too weakly to be able to take me to heights of desire
Vibrates comfortably using only this under the glans
A very good product!
Do not buy this if you are not interested in buying something that does not work. When it is in me, the control does not work. It is quite loud, so it can not be used outdoors. Bad battery life.
Bet another hundred bucks on a better one.
Kiss and hug
+ good vibrations, light and smooth
-does not sound every time and sometimes not at all. It sounds loud, so it is absolutely impossible to use it when near anyone else. You do not know what vibration it is on.
Buy someone else!
Convenient to use and nice model, but despite good care, it stopped being connected to the plug and you could not charge it all of a sudden after just a few weeks.
You have viewed 8 out of 116 reviews