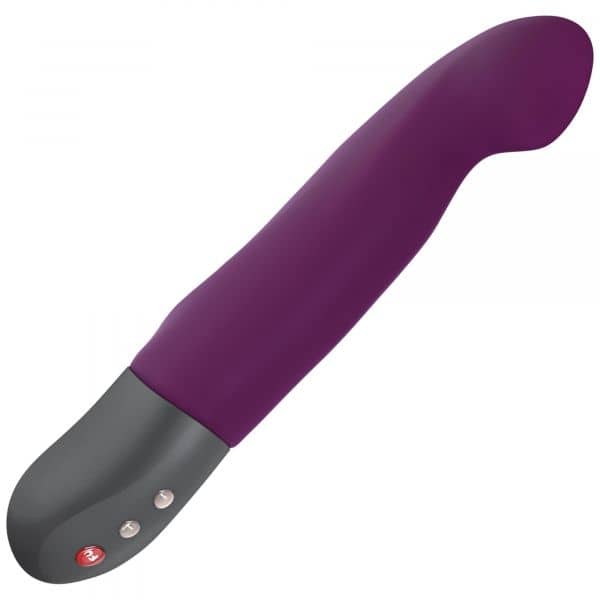 Fun Factory Stronic G Grape
Experience a pulsator! Offensive rod that moves in and out instead of vibrating.
Only 8 left in stock
Details
Bumps in and out
Gives a penetrating feeling
Silky smooth silicone
Ergonomic design
10 rhythms
Rechargeable
Travel lock
What makes it special?
Fun Factory's Stronic G is a pulsator with an ergonomic shape to access and stimulate the G-spot. Instead of vibrating, it pulsates and mimics the offensive feeling of a partner.
What is a pulsator?
Thanks to the revolutionary pulsator technology, you do not have to move the rod in and out in the same way as classic dildos because it largely takes care of it itself. If you want, you can even try to let go of the rod and just enjoy the compliant movements and while Stronic G takes care of the rest.
Stronic G has a smooth silicone surface and is designed to access the g-spot without the need to use your hands to lead the way. This pulsator has 10 rhythms / speeds to choose from, so you can easily find a speed or rhythm that suits you!
How do I control it?
You can easily control your Stronic G with three buttons. One to turn on and off, and two to scroll up and down between the 10 rhythms / speeds. Through a combination of the buttons, you can also activate the travel lock, so that it does not start during e.g. transport, as a journey.
Which lubricant should I use?
Use together with a water-based lubricant for an even more pleasant experience.
Is there anything else I need to know?
Stronic G is completely waterproof, but we recommend avoiding using this vibrator in the bath.
Fun Factory is a German company that designs and manufactures its vibrators in Germany. Like most German companies, Fun Factory is known for its innovative design and products of real quality - the best of the best simply!
How do I charge it?
This vibrator is rechargeable via the included USB charger.
How do I clean it?
You can easily clean your toy with a cleaning product specially developed for sex toys. We recommend using Pjur Med Clean Spray which is easy and quick to use! Rinse the toy you want to clean in lukewarm water and then shake off excess water. Apply the spray and allow the toy to air dry. Clear! It will not be easier than that.
How do I store it?
If you protect your sex toys, they will last longer. Avoid storing your sex toys so that they touch each other, and do not use plastic bags as storage as this can damage the silicone. Store your toy in a dust-free, dry and cool place.
General
Vibrator Shape
G-Spot Vibrators
Body Zone
G-Spot, Vagina
Stimulation Type
Pulsation
Features
Water-Proof
Mshop Type
G-Spot Vibrators
Brand
Fun Factory
EAN
4032498806044
SKU
570390
Material
Material
Silicone
Waterproof
100% Waterproof
Dimensions (Vibrator)
Length
20,00 cm
Diameter
4,20 cm
Dimensions (Package)
Length
25,50 cm
Width
9,50 cm
Height
5,50 cm
Weight
0,46 kg
Order before 10:30 and get it by:
Tomorrow 8/12 - Saturday 9/12
Free shipping
Free shipping on orders over 99 €
100% discreet packaging
SMS & e-mail package tracking
Sitting thinking of you my friend is lying dreaming of summer. Heaven was here. The birds sing your eyes were blue I love you now as I did then. Heaven was here. Oh I ask God for answers why do you leave me here. Heaven was here. I have found a new friend who is itching nicely in my bed. Heaven is here. He fucks itches well that's exactly what the mouse wants. Heaven is here. I can fuck all day because I know he'll stay. Heaven is here. Lying on fucks my new friend and he takes me to heaven. Heaven is here. The mouse it feels so damn good this is the cock I want. The sky is here. Oh, I ask God for answers, you will stay in the mouse. Heaven is here. He fucks so damn well but it's you my beloved I want. Heaven was here. You can forgive me but now he's fucking me. HEAVEN IS HERE. Highly recommended Thank you Mshop, do you want to troll and sing along to Eva Eastwood Heaven was here
Miss my beloved old man so then it's nice to put this on. Kisses and hugs
Since the sex life has been lagging behind I had to borrow this from my friend to see if it could be something for me and wow it was it comes again and again lovely penetration nice vibes when I do most of the time the old man comes home he gets stormy from seeing me so now it will be to buy one because now it will speed up our sex life again can warmly recommend this forgot to say had a great time with the old man Thank you my friend
I've probably never been as hard as this thruster with my Satisfyer Traveler. Highly recommended !!
How nice to be put on
of this itchy glorious treasure.
I fuck and fuck.
Lying horny in bed and rolling.
The mouse and I have enjoyed
when he shot his cock in.
He itches and bumps
and my mouse meets.
Just want more and more
and this beautiful cock it gives me.
The mouse is willing to line up
to this fantastic beautiful snot.
Just want to lie in bed fuck
when he bumps it into my horny pull.
I enjoy going to it possible
when I get this beautiful cock.
The horniness has no limit
when in the mouse he iin crowded.
He fills me with pleasure
me and the mouse get horny.
Highly recommend this offensive cock
he makes you crazy horny and soft.
Buy this beautiful friend
and you always want it in bed.
Thank you Mshop for this lovely pitt
the one for the mouse on my part does its thing
Hug
After getting home my six partner today who is charged and ready Top good just to get started has become ill nice fucked itches divinely has been put on 4 times and just wants more it is dangerously wonderful addictive Guaranteed orgasm on orgasm BUY BUY and your happiness is made Puss Hug
Many thanks for your quick service when my first itchy friend balla out I have to have a new bedmate pch what height just had time to start so I came again oh again so fucking wonderful comfortable bumps wonderfully against the G point many lovely speeds buttons that are easy to handle and a long battery life has bought a lot of toys from you BUT this lovely itchy cutie is and remains nr1 has never been with anything nicer worth every penny would have happily paid the 5double price Highly recommend this for nice enjoyable moments Big hug and thank you there is Mshop
Imagine having a man in the office ha ha I have it now and what a treat he knows his job itches like hell vbrerer nice huge orgasms that replace each other it has an enormously good battery time lasted 1 1 1/2 hours and the battery was not exhausted this little treat keeps its promise Most beautiful I've been to in a long time buy it and enjoy it to the fullest
Want you in bed with me you are the world's most beautiful thing nice lovely shocks that can be changed nice vibes guaranteed orgasm light buttons long battery life fast to charge just to start again when the horniness makes itself felt strongly recommends this for hot moments
You have viewed 8 out of 19 reviews