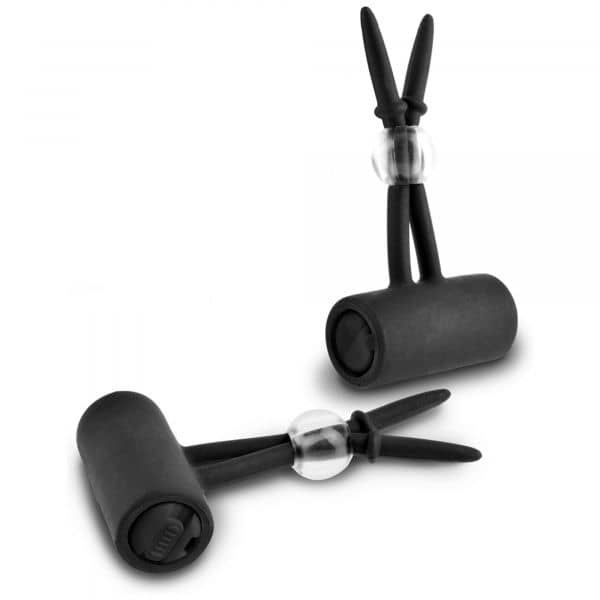 FF Vibrating Nipple Lassos
Beautiful vibrations for the nipples. Adjustable size, so you can adjust the pressure yourself.
Only 14 left in stock
Details
Wonderful stimulation for the nipples
Nice vibrations
Adjustable size
What makes it special?
Vibrating Nipple Lassos will stimulate your breasts with wonderful vibrations.
You simply insert the nipple between the strings and tighten until the Vibrating Nipple Lassos sits comfortably in place. You can also tighten them extra hard for a wonderfully painful feeling.
On the side of each Vibrating Nipple Lasso is a simple on and off button so you can quickly start the vibrations and enjoy immediately. Let them enhance the sex, completely hands-free, so you can enjoy the sensation and at the same time use your hands for other things.
Vibrating Nipple Lassos is powered by 2 x LR48 batteries (per vibrator) included in the package.
General
Product Type
Nipple clamps & ticklers
Brand
Fetish Fantasy
EAN
603912343427
SKU
581306
Material
Material
ABS plast/Silicone
Waterproof
No
Power
Batteries included
Yes
Dimensions (Package)
Length
17,00 cm
Width
7,50 cm
Height
2,50 cm
Weight
0,04 kg
Order now and get it by:
Saturday 10/12 - Monday 12/12
Free shipping
Free shipping on orders over 99 €
100% discreet packaging
SMS & e-mail package tracking
One does not work. You must have large nipples.
The vibration is strong but not in the right place. The vibration is not as strong around the ring as you put around the sip.
You have viewed 8 out of 11 reviews