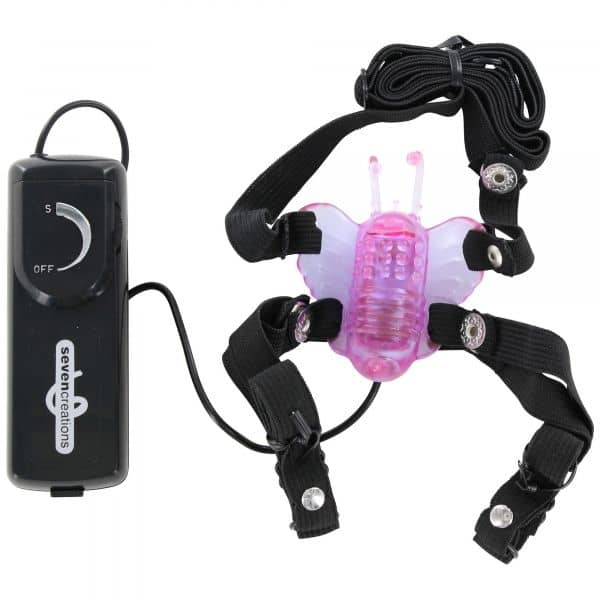 Fjärilen - Fjärrstyrd vibrator
Hands-free clitoral stimulationAdjustable harnessSoft vibrations
Only 2 left in stock
Details
Hands-free clitoral stimulation
Adjustable harness
Soft vibrations
Hand control
With the Butterfly, you have your hands free to touch the rest of your body when you climb or on your partner during sex. Experience hands-free clitoral stimulation during penetrating intercourse.
Fasten the butterfly easily and lightly with the included harness, the harness is adjustable and fits most sizes. Then the butterfly sits in place over the clitoris and vibrates and stimulates with its soft vibrations that build up the stimulus in a pleasant way.
You control the vibrations steplessly via a hand control that is attached to an 80 cm long cord in the vibrator.
Adjust the degree of vibration against the clitoris not only with the hand control but also with how hard you fasten the harness, if you want even stronger vibrations, press the butterfly down towards you with one hand.
General
Vibrator Shape
Butterfly Vibrators
Body Zone
Clitoris
Stimulation Type
Vibration
Features
Remote Control
Speed Adjustment
Gradual
Mshop Type
Clitoris Vibrators
Brand
Seven Creations
EAN
4890888112423
SKU
252130
Material
Material
Jelly
Waterproof
Splash proof
Power
Remote
Remote with wire
Powered by
2 x AA (LR06)
Batteries included
No
Dimensions (Vibrator)
Length
6 cm
Diameter
6 cm
Dimensions (Package)
Length
20,50 cm
Width
15,00 cm
Height
2,50 cm
Weight
0,13 kg
Order now and get it by:
Tuesday 26/9 - Wednesday 27/9
Free shipping
Free shipping on orders over 99 €
100% discreet packaging
SMS & e-mail package tracking
I have a great need for love when a little way out of play, aside. So I get to be responsible for my own satisfaction. Since I know women, the ones I have are enough for me, but with any guy, the toys he might need are missing. I can afford to buy him too. But I do not know who he wants to cuddle with. He must tell. This butterfly is excessively good for myself. I usually sit once a week. Check for fun and enjoyment is the most important thing there is! This one and a butterfly vibrator model bigger are the best I've had! Give me what I need and more! Once a week! The dream is still to wake up with a real man next to me so not be so afraid that he can not sleep or he does not want to use toys but chooses to have me as a toy, because sleeping is after all high pleasure it with rather trophy actually! But preferably neither ....
Do not keep what is promised.
Very little vibration. The maximum effect is too bad !! Sits like that. Disappointed. Tossed the money into the lake.
Has an older and slightly larger model that is fantastic.
Hard uncomfortable material, it does not fit well when you fasten it. No hit
Love my little butterfly.
It is not so strong but wearing it for a long time makes me come in wonderful orgasms.
I often put it on on a Saturday morning and lie and cuddle to myself.
I was very sad and disappointed with this product. I was promised a lot in the text of it. But I did not get an orgasm and I thought it was terrible and enjoyed nothing.
I do not think it was good at all! Very weak vibrator that you have to press down on the clitoris to get any feeling at all.
Really looking forward to it
I like to use this with a dildo. Works just fine and is super nice.
You have viewed 8 out of 29 reviews