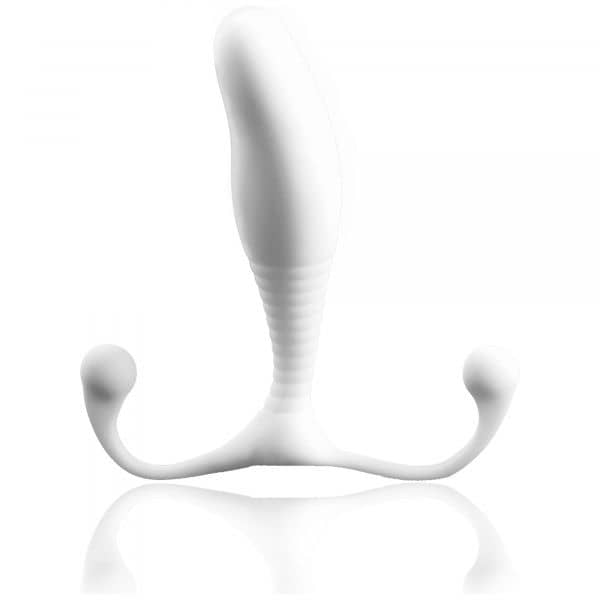 Aneros Mgx Trident Prostate Massager
Ø 2.5 cm, 10.2 cm long Prostate rod that is perfect for beginners and that provides intense stimulation.
Only 16 left in stock
Details
Incredibly acclaimed prostate rod
Stimulates 3 points simultaneously
Stronger orgasms and trains the pelvic floor muscles
Follows body shape and movements
What makes it special?
MGX Trident is an acclaimed prostate rod that can give you stronger orgasms - while helping you train your pelvic floor muscles!
MGX Trident is ergonomically designed to stimulate your prostate in the best way. Thanks to its narrow design, it is just as suitable for beginners as for the more experienced.
The design of the prostate rod is specially developed to move in sync with the body's movements. When you tense your pelvic floor muscles, the rod will change angle, giving alternating pressure on the prostate and more stimulation!
MGX Trident has a tapered base with a light structure. This means that the prostate rod is firmly in place throughout the sex and the ribbed pattern provides increased stimulation.
The inflated balls on the MGX Trident's base stimulate two sensitive points on the outside of the body to give you extra stimulation. At the front, towards the abdomen, the perineum (diaphragm) is stimulated, and at the back, towards the back, the sensitive area at the base of the spine called Kundalini is stimulated.
Is there anything else I need to know?
MGX Trident is made of hygienic and silky ABS plastic to provide as deep stimulation as possible. It can be used together with both water and silicone-based lubricant.
How do I clean it?
Rinse the toy gently in lukewarm water and then use a cleaning toy designed for sex toys to disinfect it and protect the material. We recommend Mshop Care Clean IT which is easy to use! Spray on the rinsed toy and let the spray work for about 30 seconds. Then rinse it again and let it air dry or dry with a clean towel. Clear!
How do I store it?
Avoid storing your sex toys so that they touch each other. Make sure they are in a dust-free, dry and cool place so they last longer.
General
Shape
Cone
Size
M
Body Zone
Prostateprosta
Stimulation Type
Penetration
Product Type
Anal Sex Toys
Brand
Aneros
EAN
0894757001812
SKU
581347
Material
Material
Hard plastic
Waterproof
100% Waterproof
Dimensions (Buttplug)
Length
10,2
Width
2,5
Dimensions (Package)
Length
22,50 cm
Width
14,00 cm
Height
3,50 cm
Weight
0,27 kg
Order now and get it by:
Saturday 10/12 - Monday 12/12
Free shipping
Free shipping on orders over 99 €
100% discreet packaging
SMS & e-mail package tracking
Very nice to have inside, much nicer when you arrive.
Should be a little rougher.
You have viewed 8 out of 10 reviews