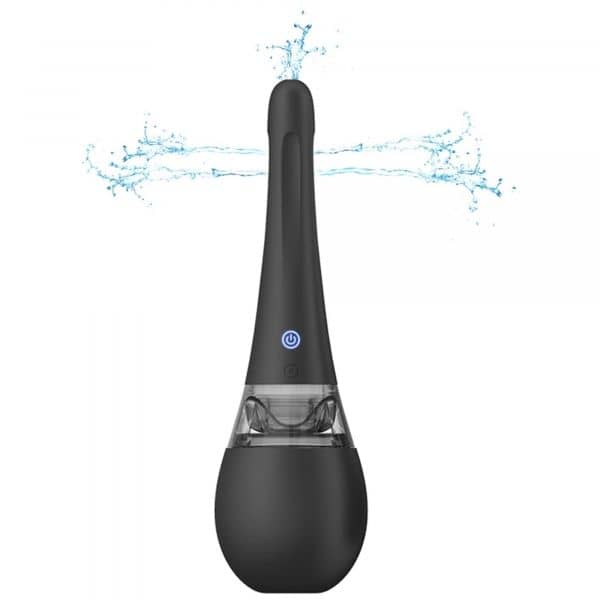 Anal Premium Cleaner
Rechargeable and automatic anal shower in silicone with 5 increasing flows.
In stock
Details
Rechargeable and automatic anal shower
Choose from 5 ascending flows
Covered in silky smooth silicone
Holds 200 ml
What makes the anal shower Anal Premium Cleaner special?
Make the anal shower easier, more hygienic and more comfortable with Anal Premium Cleaner!
Anal Premium Cleaner is covered in silky-smooth silicone material and has a rounded top to facilitate insertion. Once in place, the nozzle will gently spray water through 5 different holes around the top to give a smooth and comfortable flow.
Anal Premium Cleaner is specially developed so that no water can be sucked back into the nozzle, which makes this anal shower extra hygienic.
The anal shower has 5 different intensity levels, so you can adjust how fast you want the water to flow. Always start at the first level and let your body adjust to the sensation before increasing to the next level.
How do I use the anal shower Premium Anal Cleaner?
Start charging the anal shower Anal Premiun Cleaner with the included USB charger. Then remove the lower container and fill it with lukewarm water. Then screw on the water tank again and check that the parts are correctly assembled. Lubricate the narrow nozzle with water-based lubricant to facilitate use and to reduce any friction.
Then insert the nozzle into the anus and start the water flow. When the water in the tank runs out: remove the Anal Premium Cleaner and try to hold the water in for a few seconds before discharging it into the toilet. Repeat the procedure until you are satisfied.
How do I load Premium Anal Cleaner?
You can easily charge Premium anal Cleaner with the included USB charger.
How do I clean Premium Anal Cleaner?
Remove the nozzle and gently rinse it in lukewarm water. Then use a cleaner that is intended for sex toys to disinfect it and protect the material. We recommend Mshop Care Clean IT which is easy to use! Spray on the rinsed nozzle and let the spray work for about 30 seconds. Then rinse it again and let it air dry or dry with a clean towel. Clear!
How do I store Premium Anal Cleaner?
Avoid storing your sex toys so that they touch each other. Make sure they are in a dust-free, dry and cool place so they last longer.
General
Body Zone
Anal
Effect
Cleaning
Product Type
Intimhygien
Brand
UniSexy
EAN
6933522802477
SKU
581519
Material
Material
ABS plast/Silicone
Waterproof
Splash proof
Power
Powered by
USB Re-chargeable
Dimensions (Product)
Length
24,85
Width
7,5
Diameter
2,5
Inner Length
14,75
Dimensions (Package)
Length
26,50 cm
Width
10,00 cm
Height
8,00 cm
Weight
0,32 kg
Order now and get it by:
Wednesday 28/9 - Friday 30/9
Free shipping
Free shipping on orders over 99 €
100% discreet packaging
SMS & e-mail package tracking
It works as described, but is a bit premium. A regular nozzle for a shower works just as well.
You have viewed 8 out of 9 reviews