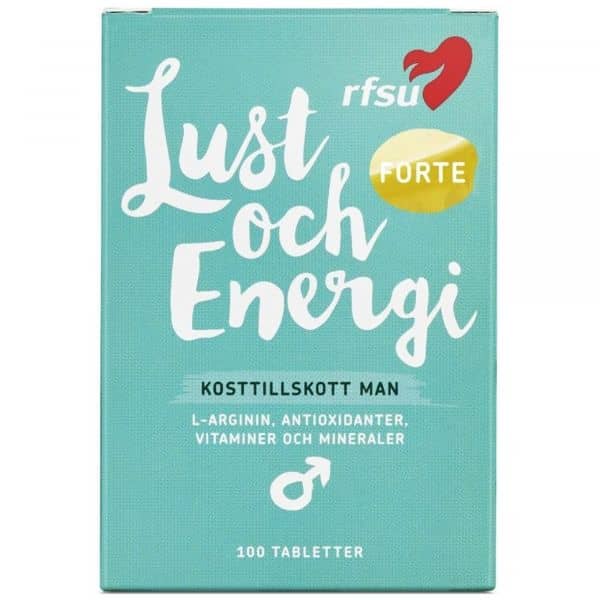 RFSU Lust & Energi Kosttillskott Man
Tablets that are taken daily and provide increased desire and energy.
In stock
Details
For increased desire and energy
Adapted to men's physical needs
Helps maintain normal testosterone levels
Contains 100 tablets
What makes it special?
Dietary supplements for more desire and energy in everyday life! Adapted to men's physical needs, health and well-being.
Mainly contains the amino acids L-Arginine and L-Citrulline but also several different vitamins and minerals such as Magnesium, Zinc, Selenium, Vitamin C, E, B6, B12
Zinc is a mineral that helps maintain normal testosterone levels in the blood and normal fertility and reproduction. Selenium is also a mineral that contributes to normal spermatogenesis, i.e. sperm formation. Dosage: 3 tablets daily. The tablets can be divided without affecting the effect. Can be eaten at the same time at any time of the day and is preferably taken with food. Swallow with liquid. Taken with advantage regularly for best effect.
Content:
L-Citrulline, fillers (microcrystalline cellulose, dicalcium phosphate, fatty acids), L-Arginine HCl, magnesium oxide, ascorbic acid (Vitamin C), tocopheryl acetate (Vitamin E), surface treatment (shellac), fillers (magnesium salts, zinc acid) anti-caking agents (silica), sodium selenate (Selenium), pyridoxine hydrochloride (Vitamin B6), cyanocobalamin (Vitamin B12), folic acid. The amino acids L-arginine and L-citrulline are of animal origin.
Dimensions
Weight
0,19 kg
General
Brand
RFSU
Product Type
Enhancing - Men
SKU
581516
Order now and get it by:
Wednesday, 21/04 - Friday, 23/04
Free shipping
Free shipping on orders over 99 €
100% discreet packaging
SMS & e-mail package tracking