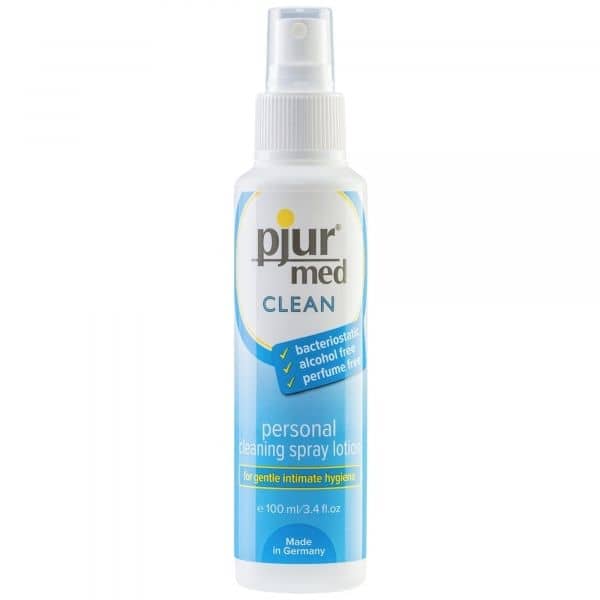 Pjur Med Clean Spray - 100 ml
Disinfectant cleanser for sex toys that is easy to use.
In stock
Details
Easy-to-use sex toy cleaner
Recommended cleaning for your sex toys
Works just as well for intimate cleaning as for sex toy cleaning
Antifungal against bacteria, infections, fungi and viruses
Pjur Med Clean Spray is an easy-to-use sex toy cleaner, it is clinically evaluated and has a preventive effect against infections. In addition, it reduces body odor and has an intense anti-bacterial, antifungal and virus effect. It is odorless and tasteless and is gentle on sensitive materials such as latex, rubber and silicone.
Use it like this:
• Toy cleaning: Rinse the toy you want to clean in lukewarm water and then shake off excess water. Apply the spray and allow the toy to air dry. Clear! It will not be easier than that.
• Intimate cleansing: Apply the spray directly to the body if you want a refresh or reduce odor. Ideal to take with you on long flights, for example.
When you clean your sex toys properly, they last longer. If you wash them with soap, detergent, alcohol or other cleaning, you risk them drying out. When they dry out, small cracks form in the material of the toy, in these small cracks bacteria accumulate, as well as remnants of used cleaning, which you then get into the body when you use the toy. In addition to the health risk, the small cracks also contribute to larger cracks in your toy. Therefore, use a correct cleaning for your sex toys - both for yours and for the sake of the sex toy!
General
Effect
Cleaning
Product Type
Cleaning for sex toys
Brand
Pjur
EAN
0827160104023
SKU
364208
Material
Ingredients
Aqua, Phenoxyethanol, Cocamidopropyl, Betaine, Chrorhexidine, Digluconate, PEG-7, Glyceryl Cocoate, Dimethicone Copolyol, Neohesperidine, Sorbitol,
Dimensions (Package)
Length
16,00 cm
Width
3,50 cm
Height
2,00 cm
Weight
0,13 kg
Order now and get it by:
Wednesday 28/9 - Friday 30/9
Free shipping
Free shipping on orders over 99 €
100% discreet packaging
SMS & e-mail package tracking
I do not need to write anything about this spray, it is absolutely fantastic to clean what we use when we have great foreplay.
If you do not have this, then buy it.
K
Really did not expect it to be SO good! The spray is very easy to use, and is discreet so it is not immediately visible what it actually is. Gives a fresh scent, without smelling anything, and it removes almost all odors from the toys! Will definitely buy again! Really recommend :)
So incredibly easy to use! Will continue to use this product.
So heavenly good, easy to use! I run on this product over and over again (y)
You have viewed 8 out of 88 reviews