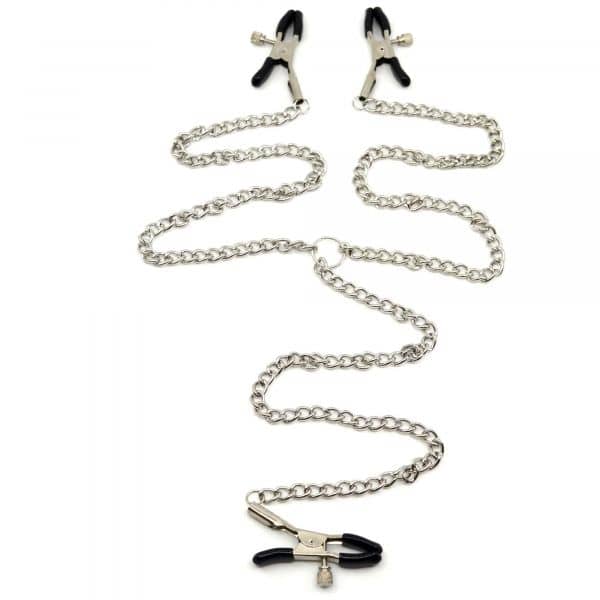 Nipple and Clitoral clamps
Silvery nipple clamps with an extra clamp for the clitoris. Adjust the pressure yourself and see where your perfect limit goes.
In stock
Details
Painful pleasure on three points at the same time
Two nipple clamps & a clitoral clamp
Adjustable pressure
Linked with stylish silver chains
What makes Nipple and Clitoral Clamps special?
Explore the exciting feeling where pain and pleasure meet with these clamps!
Nipple and Clitoral Clamps are adjustable so you can customize them to your liking. You can also increase the pressure slowly during sex to get an explosive end when you loosen the clamps.
Each clamp has soft covers so the pressure is distributed more evenly and provides a soft contact surface with the skin.
How do I use Nipple and Clitoral Clamps?
Screw in the small screw on each clamp so that they have the loosest pressure from the beginning. Then try gently pinching them in the nipples and clitoris.
Then adjust the pressure by unscrewing the screws so that the clamps pinch harder. Take a break and then increase the pressure further if you want.
When you then remove the clamps, the blood supply will increase quickly, which can often give an extra pain boost compared to the steady pressure that has been before. So do not tighten them too hard before you get used to the sensation.
Material
Material
Metal
Dimensions
Weight
0,11 kg
General
Brand
Yolanda
Product Type
Nipple Clamp
SKU
581489
Order before 14:30 and get it by:
Wednesday, 10/03 - Friday, 12/03
Free shipping
Free shipping on orders over 99 €
100% discreet packaging
SMS & e-mail package tracking