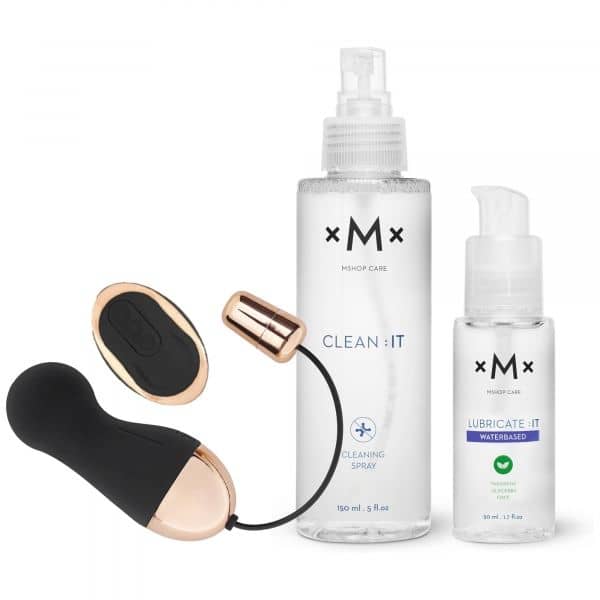 Mshop Galaxy & Care kit
Remote controlled kit for more exciting sex
In stock
Details
Perfect kit for more exciting sex!
Wireless egg, lubricant & cleaning in one
Up to 30 meters range
10 vibration patterns
Very discreet
Gentle & long-lasting lubricant
Disinfectant cleaning spray
What makes this kit special?
This kit is perfect for you who want to test the limits and have a more exciting sex life! Apply Lubricate: it on the vibrating egg Galaxy, insert it into the vagina and prepare for an exciting evening in town. Clean: it disinfects the Galaxy after use and keeps the egg fresh until it is to be used next time.
Galaxy
Galaxy - vibrator with varied pleasure! With Galaxy you take your sex life to new levels, experiment with the endless possibilities that this egg vibrator realizes! Use it in the foreplay, take it with you on a restaurant visit or why not on a shopping spree?
The egg has a velvety surface so it is very easy to insert. You can easily switch between the 10 different vibrations with the plus and minus buttons on the included remote control. Should it be too nice or if you want to tease your partner a little extra, you can turn off the egg quickly by holding down the On / Off button for two seconds.
The remote control is flexible with clear buttons so you can easily change positions even if you hold the control in the jacket pocket, in addition it is discreet - no one will notice if you want it available in your hand.
Mshop Care kit
Mshop Care kit is all you need to enjoy your sex toys more.
Lubricate: it waterbased is a water-based lubricant that provides a long-lasting glide while being gentle on you. It is vegan, paraben and glycerin free and comes in a flexible pump bottle. Lubricate: it waterbased can be used with all different types of materials.
Clean: it is an effective cleaning product that disinfects your sex toys and preserves the material. Clean: it can be used for all different types of sex toys and is fast and easy to use.
General
Package Contents
Galaxy, Fjärkontroll, Lubricate:it, Clean:it, USB-laddare, Förvaringspåse
Vibrator Shape
Egg Vibrators
Body Zone
Vagina
Stimulation Type
Vibration, Penetration
Features
Remote Control
Product Type
Egg Vibrators
Brand
Mshop Private Collection
SKU
BOM-571414
Power
Remote
Yes
Dimensions (Package)
Length
17,30 cm
Width
23,50 cm
Height
8,00 cm
Weight
0,65 kg
Order before 10:30 and get it by:
Tomorrow 7/2 - Wednesday 8/2
Free shipping
Free shipping on orders over 99 €
100% discreet packaging
SMS & e-mail package tracking
good for its price with strong vibes! tested the control from the other side of the apartment unit and there were no problems at all. recommended!
Lovely little thing that you can have fun with in different ways.
However, the vibrator is heard a bit even when you have it in you.
But still super happy!
Good vibration strength and smooth, comfortable material. The only sad thing is that it can not be started from off with only remote control but only adjusted.
Super good compact vibrator.
Highly recommend this, it gives a nice feeling during sex for both me and the guy. Even nice at your own time! :)
Stylish and discreet product, I have mistaken it for my car key a few times! hihi :)
This was my first toy I ever bought and it is super affordable and comfortable to use. The second time I used it, I arrived within 5 minutes. The different vibration camps are wonderful. It is heard a little both outside and when it is in me but not so loud that the people outside the room hear. Highly recommended for those who like vibrations at the clitoris.
Really good little thing. Absolutely wonderful features. A little flexible and incredibly comfortable to have with a partner
You have viewed 8 out of 18 reviews