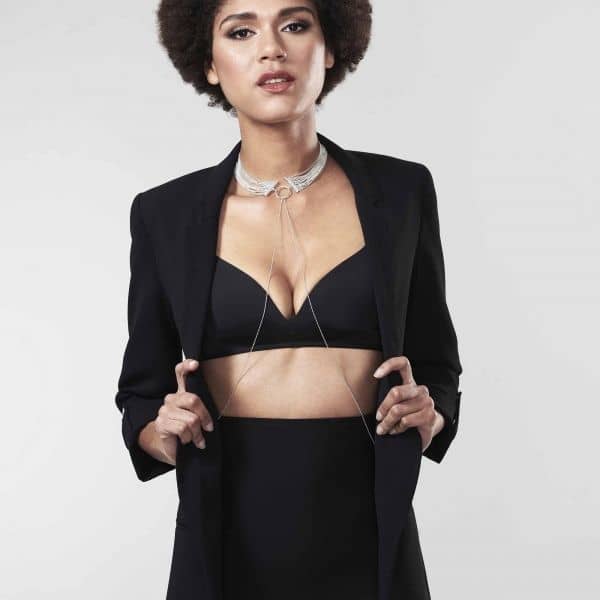 Magnifique Collar Silver
A sensual necklace beyond the ordinary. The collar consists of several layers of ball chains that then travel down the body.
In stock
Details
Elegant collar-like necklace
Suitable for all occasions
Perfect for bondage games
Nickel free
The touch of metal chains on the skin arouses the imagination ...
This is an elegant collar for all occasions and it is also a perfect accessory for soft bondage to fulfill your most secret fantasies. Follow your senses!
Wear it visibly with your dinner outfit, or as part of your underwear, closest to your skin. You who are allergic do not have to worry, this collar-like necklace is completely nickel-free. The necklace is adjustable, and therefore fits everyone.
The exclusive design is made by Bijoux Indiscrets and is inspired by sensual dancers in New York cabaret, where seduction is present in every detail.
Material
Material
Metal
Dimensions
Weight
0,21 kg
General
Brand
Bijoux indiscrets
Product Type
Role play
SKU
565135
Order now and get it by:
Monday, 20/09 - Wednesday, 22/09
Free shipping
Free shipping on orders over 99 €
100% discreet packaging
SMS & e-mail package tracking
I'm not into jewelry but it was on sale and i wanted to try it.
Nothing ill wear outside of home as i don't wear jewelry but its sleek nice design easily worn as just a necklace as in pic.
It has a short chain/leash that u can attach on front(well anywhere i guess) to add some roleplay etc.
Cold against skin is nice when its hot & the thin chain that runs around ur body is easily hidden out/with others and can serve as part of foreplay.
I'd say it fits most bodies. The chains are long, u can adjust a lot.
I felt the collar was a bit on looser side on me in the shortest setting.(still like on pic then)
Also the chain leash is not that long but then that depends where u choose to attach it i guess!