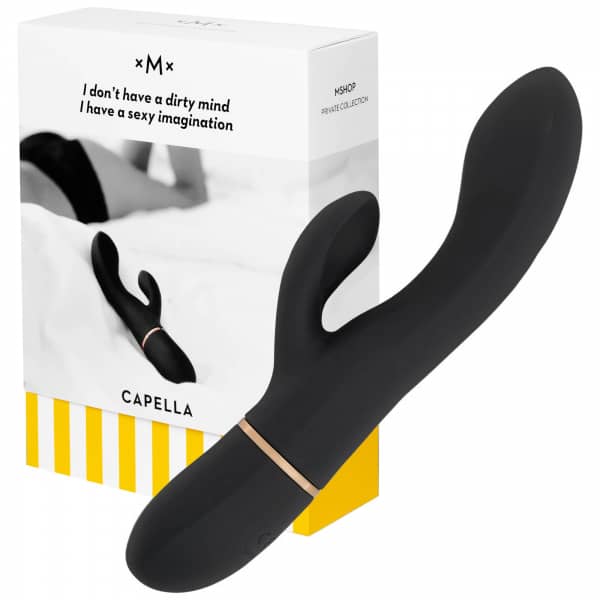 Capella
21 cm long, Ø 3.5 cm - Our most affordable rabbit with 10 vibration modes, twin motors & silky smooth silicone surface
In stock
Details
Capella Stimulates the clitoris and G-spot
Fits pairs - neat and flexible design
Structure that locates G-spot
Easy to control - 1 button - 2 motors
10 vibrations - powerful and quiet
two motors, one at each stimulation point
What makes Capella special?
Capella combines the best features of the market's most popular rabbit vibrators - without costing a fortune - all to make orgasmic pleasure accessible to everyone!
Like a classic rabbit, Capella combines clitoral stimulation with wonderful g-spot vibration. Whether you love powerful vibrations or tickling touch, you will easily find your favorite in Capella.
With two motors, one at each stimulation point, and 10 different vibrations, Capella provides maximum enjoyment. Ergonomically designed with marked edges, Capella provides a structure that helpfully locates and stimulates G-spot and vaginal walls. The neat design makes it easy to maneuver and is just as orgasmic on its own or with a partner.
Tip: feel free to rotate the Capella from side to side so that the marked edges stimulate the vaginal walls and G-spot
How do I control it?
You can easily control the vibrations with one and the same button. Capella is started and switched off by holding down the button for 3 seconds, varying strength and vibration patterns by clicking once on the button. Both motors are controlled and used simultaneously.
Which lubricant should I use?
We recommend using the water-based lubricant Mshop Care Lube It together with this vibrator for an even more pleasant experience.
What makes Private Collection special?
With over 30 years of experience behind us, we have designed the Mshop Private Collection - developed to provide the perfect combination between high quality and ergonomic design. All sex toys in the collection have a silicone cover of the highest quality, and are designed to maximize your sexual pleasure.
How do I charge it?
This vibrator can be recharged via the included USB charger, on the back of the rabbit vibrator there is an input for chargers marked with DC.
How do I clean it?
You can easily clean your sex toy with a cleaning product specially developed for sex toys. We recommend using Mshop Care Clean It which is easy and fast to use! Rinse the toy you want to clean in lukewarm water and then shake off excess water. Apply the spray and allow the toy to air dry. Clear! It will not be easier than that.
How do I store it?
If you protect your sex toys, they will last longer. Avoid storing your sex toys so that they touch each other. Store your sex toy in the associated storage bag in a dust-free, dry and cool place.

Low (Dual)

Medium (Dual)

High (Dual)

Pulse (Dual)

Crest (Dual)

Echo (Dual)

Surf (Dual)

Tease (Single)

Tide (Dual)

Ramp (Single)
General
Vibrator Shape
Rabbit Vibrators
Body Zone
Clitoris, G-Spot, Vagina
Stimulation Type
Vibration, Penetration
Product Type
Rabbit vibrators
Brand
Mshop Private Collection
EAN
7350102750031
SKU
571406
Material
Material
Silicone
Waterproof
Splash proof
Power
Powered by
USB Re-chargeable
Dimensions (Vibrator)
Length
21,00 cm
Diameter
3,50 cm
Dimensions (Package)
Length
23,50 cm
Width
17,80 cm
Height
6,80 cm
Weight
0,55 kg
Order now and get it by:
Saturday 10/12 - Monday 12/12
Free shipping
Free shipping on orders over 99 €
100% discreet packaging
SMS & e-mail package tracking
Bought mine almost exactly a year ago. Loved it once I used it. Haven't paid much attention to it. Always stored it in the associated bag and cover. Yesterday when I was going to charge it, they didn't work. It doesn't start to light up and doesn't get a battery. Sad when they don't last, especially when you don't use it very often.
Very nice product, but wish there could be a +/- button on it, so you can decide for yourself which vibration you want.
It has been difficult to start since the start and now after a few months it does not start at all. Sad with such poor quality!
Best vibrator I have owned, it gives good strong vibrations and is quiet. Stylish and stylish, no hassle. the clitoris irritant finds the right one every time! :)
My red rabbit broke a while ago. Got Capella recommended in the store. Was a little hesitant because I liked the balls in red rabbit.
Took just short before I changed my mind! Wow how good it is. Come in no time and again.
No talk that it delivers!
This one has a cruel design that really gets to the g-spot, had no idea that the little bend would mean so much! Satisfaction guarantee, yes thank you :)
Just saying wow! Throughout my 40-year life, I have only "come" when I have ridden my husband, never otherwise. But with CAPELLA I came almost immediately! I'm completely lyrical ....
Have had other rabbit vibrators before but this is without a doubt the best I have experienced! Love that it also comes with a storage bag - perfect!
You have viewed 8 out of 91 reviews