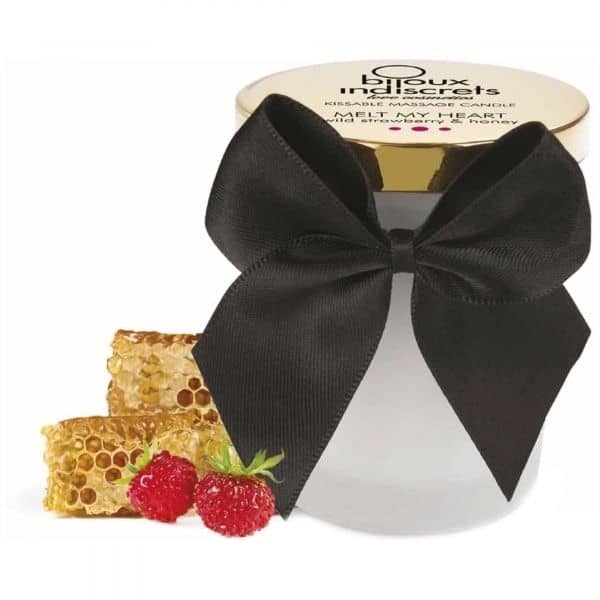 Bijoux - Massage Candle Wild Strawberry and Honey
Massage candle with a wonderful scent and taste of strawberries and honey
In stock
Details
Sensually warming massage oil
Lovely aroma and taste of strawberries and honey
Free from sugar, gluten and wax
What makes it special?
Give your partner a sensual massage with a warming massage light!
Light the candle and create a relaxed atmosphere with your partner while the massage oil is allowed to melt. After about 15 minutes, the pulp candle is ready and will have spread a wonderful scent of strawberries and honey in the room.
Carefully pour the oil into your hand or directly onto your partner's body and slowly caress it over the skin. The oil both smells and tastes good, so slow caresses with kisses over the skin vary to bring both body and mind to life.
Massage candles are specially designed to have a maximum temperature of 40 degrees so you should get a warming feeling without burning yourself.
Dimensions
Weight
0,21 kg
General
Brand
Bijoux indiscrets
Product Type
Massage
SKU
581512
Order before 14:30 and get it by:
Thursday, 20/05 - Saturday, 22/05
Free shipping
Free shipping on orders over 99 €
100% discreet packaging
SMS & e-mail package tracking
Its really hard to find massage candles that's not scented(perfume)
Or if not its some natural flowers or crap that cause allergy anyway if not synthetic crap, not to mention they gotta be lick friendly.
I've had 1 naturall without scent forever ago which was awesome but hard to light after 1st time(writing this in case that's an issue with most massage candles?)
Can only say that this one smells AMAZING and the fact u can lick np is so NEEDED.
(Trust me use coconut oil as body lotion etc before sex or its so gross with unnatural products tasting crap when ure getting it on, instant turn off:/)
Not tried yet due to summer heat but scent is 5, package sexy/classy=5